About Dore
One of the most creative and versatile programmers in radio, Dore is an advocate for cross-pollinating music. He is producer/host of Tangents, a program that explores the bridges connecting various styles of music, including world and roots music, and creative jazz hybrids.
Dore also produces a political segment within Tangents called Gaza Corner.
Stein has also written news analysis regarding Turkey and Kurdistan for the on-line news source for independent commentary, Truthout.

Stein's unusual background bridges commercial and non-commercial radio, dating back to commercial free-form rock radio at legendary WQBK in Albany, New York. After several years, Dore transitioned into a short-lived career as a documentary producer. His television documentary "Nicaragua: Another Bay of Pigs?" was aired on PBS. Stein moved from New York to the San Francisco Bay Area in 1984 working as a video producer but was anxious to get back on radio. The opportunity presented itself at Bay Area jazz outlet KCSM in 1985 and Tangents was born. While producing Tangents, Dore was Music Director at KKSF, where he was a five time Gavin Award nominee. Stein brought Tangents to KALW (SF, 91.7fm, kalw.org) in 1995 and later to Paris based Mondomix.com and is currently webcast on Berlin based Multicult.fm.

Beginning in 2005 a new chapter emerged as Dore began his annual Tangents Turkey Music Tours. In a climate of ignorance and misperceptions regarding Islamic culture, Dore believes the best way to learn about other cultures is through travel and music.

Dore arranged a full concert itinerary featuring a who's who of Anatolian artists, including Sabahat Akkiraz, Taksim Trio, Cenk Erdogan, Okay Temiz and the late Selim Sesler.
This one-of-a-kind experience was written up by the SF Chronicle, Tom Brosnahan, who is the dean of Turkey travel writers, and Istanbul based newspapers Hurriet Daily News, Today's Zaman and the entertainment publication Time Out.

The Tangents Turkey Music Tour was placed on hold after 2014 due to unstable and dangerous conditions in Turkey.
Dore has since shifted to Tangents Greece Music Tours with the first one in October, 2017. Read the Overview page for latest information and live links.

In addition to music and travel, Dore's other major passion is softball. He has played in the San Francisco Softball league for 25+ years. A resident of San Francisco's Portola neighborhood, Dore lives with his long-time girlfriend, poet Clara Hsu, and their feline companion Klimey.

Moti is pictured below but went missing 9/4/14. Pray for Moti!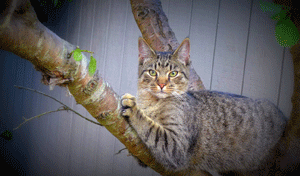 Klimey is directly behind orange tabby Petey and to left of Cookie. The latter two are in Tangential feline heaven.