Tangential Feedback

(feedback is welcomed via tangentsradio@gmail.com)

David Nelson,
Kitchen Sisters
, San Francisco


Love the show tonight. Rich, deep, haunting.
Was Thomas, Bolinas
U r certainly have me smiling so far this evening. Special thanks for the Zep and all the choons thus far. After all these yrs u still amaze me as does the music.
Andy Gillis, San Francisco
Just wanted to let you know that besides enjoying your musical selections, I just love Gaza Corner cause you try to parse out all the complexities that are the Middle East and obviously do a lot of reading and research on that area. And then you compile it
in a comprehensible, engaging manner and from an unabashedly egalitarian, progressive perspective.
Thank you so much for doing this. I don't get to listen to you as often as I'd like, but whenever I do I always find it enlightens and clarifies my ideas about a region I really want to understand better.
Thanks again Dore for the great work!
Tina Marzell, El Cerrito
Thx for enhancing our lives.
Terence Groeper, San Francisco
Another
Saturday
night, enlightened by your Tangents' music magic and Harry's playlist perfection.
Karen Merigo, San Francisco
I'm a grateful long time listener. Love my chilled Saturday nights 'with you'.
Once in a while i write you, won a tkt to a show and went to quite few shows you recommended and always lovd them.
Thank you for Gaza Corner. I have to brace myself to listen to it, and i always appreciate how you inform us. It's always very heart breaking but necessary b/c almost nobody else is doing it.
As always thank you for the music.
David Ogorzalek, Alameda
Thanks for playing all the great tangents tunes in 2017- Marty Stuart of course, Sean Lowe. really digging Guy Buttery from last year too.
And appreciate you bringing a myriad of music from far corners of the globe.
names and places unpronounceable, yet all part
of the cosmic groove- a Sonic Caravanserai (w respect to Carlos!)
I'm glad to live in such a rich environment- enhanced by live local bands like Howell Devine... articulated by masterful DJs!

Alex Heeger, San Francisco


It is rare these days that I manage to listen to your broadcasts live and without interruption. Tonight I made time, however. Practically anything you play evokes a range of feelings. Joy and happiness, memories, sadness, curiosity - your choice of music touches them all.
I have not purchased music in years. I thought I can enjoy what terrestrial airwaves via KALW and also iTunes' "Internet Radio" section has to offer. With your music tonight (and next Saturday) I am reminded of the range and the variety I am missing. I guess I will have to take notes, make a list and visit a music store again!
Ever so thankful for your program.
Karen McCabe

I hope I won the powerball tonight too so I can buy the rest of the openings for your next tour.
Thanks for all the good info and always, ear-opening music.
Edith Sartin, Vallejo

I just discovered Arash Sarkechik, thanks to You.
I love his music! I hope he finds his way to America for a tour.
Thank You as always for your delicious sharing of life enriching magic (music) !
(and Thank You for your great playlists for access to awesome music)
Steve Gessert, Redwood City

You must put an incredible amount of time into your program and audience each week - personal replies to emails, along with the various informative emails, let alone preparing for the show!
My wife and I only discovered your show about 2 1/2 years ago (we've been in the Bay Area for about 9 or 10 yrs). Though I don't get to hear you every week, you've become the only radio host I really try to catch since, oh, probably the line-up at KCRW (Santa Monica) back in the 80s: Tom Schnabel, Deirdre O'Donoghue, Roger Steffens, CC Smith & Solomon Solo.
I love the breadth of music you play. You're filling the "Notes" section of my phone with entries every time I listen!


UC Berkeley Professor Martin Schwartz (world renown rebetiko expert)


I'm so glad to see that you'll have both Evgenios Voulgais and Dimitris Mystakidis in your (2017 Tangents Greece Music) tour. In my opinion, you can't do better than these guys!!! Mystakidis is a marvel.

Hoolay, New York City


In addition to being our best DJ anywhere and key provider of musical oases,
you have also turned yourself in recent years into really our very best go-to source for any kind of realistic journalism on Palestine.
Steve Basile, Austin, Texas
I haven't kept up my membership lately but I'm re-enlisting. I've benefitted from the best ears in radio since I first tuned you in in 1980 way back in the WQBK days, and you've never steered me wrong musically. And we'll always have Turkey. Keep sharing real news and beautiful tunes my friend.

Tim Isom, Outer Richmond, San Francisco


Your show still has the electric "now" of live radio - who freaking knows what your going to play next!. The art of sound segue - still don't see an algorithm catching the lightning the way a live human can. Amen - much appreciated.

Wayne Weeks


Dore, you are one of a kind and create a wonderful Saturday night while listening to you.

Laurie Polster, Oakland

You're such a wealth of musical knowledge, I so appreciate all I glean from listening to Tangents!



Carla Paganelli, Oakland


I appreciate this notice and how your program continuously expands my musical horizons. Listening to Mr. Abercrombie's "Timeless" as I type this. . . having never heard it before . . thank you and him for turning me on today! So beautiful.



Lynda Grose, Muir beach


Thank you Dore for using your respected position to create agency in the community on this issue.
I have listened to you on two coasts for more than thirty years.
And you continue to gain my highest respect for your musicality and your values.
Many blessings
John Donohie, SF
Hey adore,
Long time tangents listener here and a Dead Head as well. I'm a massage therapist
and I have a client every Saturday evening that finishes at about 830. I turn on tangents soon as I get into my car. This evening I did so just a few minutes ago and while you were talking I thought, hmmmm Dori never plays the Grateful Dead, he must not like them, I wonder why, their music does touch mind bending boundaries. Just then you start talking about Phil and then you played unbroken chain. Uncanny and wonderful. Thank you so much,.

Bruce Cohen, Kensington


I don't think I've ever heard the beginning of the Gaza Corner segment (5/13/17).
That was excellent: it was specific, succinctly described both the current events
and the context that made them understandable, and let the (powerful) facts speak for themselves rather than weakening the impact with rant. Thank you.
Wayne Weeks


I love your show, work, travels and of course your Music. I will always support you/KALW !!
Jennifer Abel


I so appreciate your show and proselytize about how wildly eclectic and interesting it is! Especially to younger people who I know would be interested.
Chula Camp, San Francisco

What a treat to listen tonight !!! Enjoyed Miroslav and Yvette. Your tribute to Syrian artists is touching.
After all music is the glue that bonds humanity and knows no barriers...or one would hope.
With much of the world out of touch with reality (no moral compass), your program does feed my soul.
Eric Broque, Berkeley


Listened to you tonight on the way back from Sonoma and now at home. Always a pleasure to hear you talk music, sports and politics, all from a righteous point of view.
Always grateful for everything you bring to the table (radio, I mean) and with sincerity & intelligence & passion.
Bill Evans, San Francisco


The show sounds as fresh as ever- the mix of new and old is appreciated.
Heidi-Jane Schwabe, The Mission, SF


Gosh, Dore, I'm not sure you could possibly even imagine how much all your
hard work and your love of good music is helping the people around you. I
sat listening to your show last night feeling injected with relief. So
much chaos going on around us but, for me, your show - and even more
specifically, your high standards - they're like an oasis, an island of
inspiration. And hope. And sanity.
I'm seriously so grateful. And yeah, Ibrahim Maalouf - that was awesome!

Waz Thomas, Bolinas
30 years (Tangents on air). That is the same length of time that I have worked at Commonweal coming here and co-founding the Commonweal Cancer Help Program in which I was yoga teacher, meditation guide - I led healing writing sessions and facilitated healing circles. During that time I had an HIV diagnosis ( 1986), a prostate ca diagnosis (2009) and a stroke, very cool neurological event (April 12, 2015) - I'm just fine! Through all this and much more listening to Tangents and Mr. Stein - thank you, thank you, Bro. May you thrive!
It is amazing and inexplicable!
Peace and ease and choons.

Rita K. Cahn, SF


Thank-you for years of awesome programming + for Gaza Corner.


Chris Botsch, SF


I love your program - Recently discovered and have switched my Saturday night listening from KQED to KALW to hear Tangents and Gaza Corner.


Kent Khtikian, Bolinas


I appreciate your perspective on Israel. Not simply because it is rational, but because it is rational and you are Jewish. I have had arguments with Armenians who take the position that Turks owe "retribution" to Armenians. While that issue is not nearly as hot as what you face, the uncomfortableness of facing down my ethnic fellows and to take an opposing position to them that I believe (or at least imagine) is rational, permits me some small degree of empathy with what you do with a harder situation and on a more frequent basis.
If I believed in God, I would say that you are one of her angels.

Ileana Soto, Berkeley


Thanks for your advocacy and courage on behalf of the Palestinians and all those who struggle with such oppression.
Lorraine Cline, Mill Valley
Thanks so much for an amazing show last Saturday on KALW. I especially liked Tony Joe White and Shelby Lynne. We are so lucky to have you every Saturday night!



Fernanda Monmany lives SF, from Buenos Aires


I wanted to tell you how much I love the music you play. It takes me places....
I am going to Turkey next Wednesday, and listening to this music right now makes me fly away and forget all that is to forget. Thank you!!!
Buenas noches y gracias por la musica.


Joel Koosed


Thanks -- just heard the show for the first time tonight (5/23/15) -- fabulous music -- esp Niyaz and Nishtiman!


Brian Finley


I'm a big fan of your show, and really appreciate your dedication to it, and your love
of beautiful, challenging music.



Tessa Spargo live in SF, from South Africa


I am a recent but huge fan of the program. So appreciated poignant hommage to Palmyra this evening. Loved (Anouar) Brahem piece played tonight.


Dee from Oaktown
So love your selections, quite wonderful!
Thank you for embellishing my world!
Yaya Fanusie, Sierra Leone and SF
Thanks for enriching my Musical Capital. Continue being an Evangelist of the unknown talents(MUSIC) of the WORLD.
Frank Buffum, SF
As a musician, the resource of Tangents opens my musical perspective into realms I might not otherwise come to hear. Much like the way KALW functions with its wide range of intelligent programming. Thanks to Dore, Tangents, and to all the supporters who enable KALW to keep expanding our perspective.
Jennifer Gampell, Santa Rosa + Thailand
I rely on you for all the latest world music, trenchant commentary on the latest global egregiousness, and your incredibly energetic on-air presence. You're one of a kind and such a shining beacon amidst the dross that passes as radio today.
Laurie Poster


Always appreciative of what you give us over the airwaves.

Cheryl Switzer
I love your show each week. If I don't catch it all on Saturday night I tune into the archive in the week that follows. Love the good music and surprises. I renewed my membership tonight.

Ted Rucker, Castro Valley
Met the love of my life, Mayona, at a Tangents party.
Thomas Anderson, Berkeley
Tangents is one of my favorite shows on the radio. The quality and variety of music and news is excellent.
Brenda Cravens, SF
Dore's a San Francisco treasure. I'm happy to have the good luck to find Tangents.
Ileana Soto, Berkeley
Thank-you for advocacy for human rights.
Siobhan LaRue, Oakland
Tangents helps to inspire my cooking. Helps me spice thinks up in the kitchen.
Roxanne Avey, SF
Love the variety and Dore's travels and the music he brings back.
Randy Fincher, Phoenix
Tangents is a cool drink of water in the desert.
Nick Winkworth, Palo Alto
A huge thank-you to Dore Stein for nurturing a wonderful community of like-minded, intelligent and fascinating people.
David Airey, Petaluma
The best music show on radio buttons by one of the best guys on radio.
Barbra Paschk, SF
Never know what you're going to hear
Jennifer Gately, Bolinas
Tangential radio rocks. I love how eclectic, worldly and intelligent this show is.
Donald Fortescue, Oakland
Addicted to Tangents
Sandy Sonnenfelt, Oakland
I'd like to thank Dore for great ear candy. He has introduced me to a lot of music I would not otherwise have found.
Karen Merigo, SF
Tangents is a great program. Reminds me of radio in Italy in old days when it was real!
Frish Brandt
The world is a better place with Tangents.
Bruce Ackerman
Just discovered Tangents tonight for first time. It made a boring evening of painting into an outstanding night.

Michael Neff
Eclectic doesn't begin to describe you.
Mary Brady
I just wanted you to know how much I am enjoying your
show tonight. I always dig the music you play, but your guests
tonight added an extra dimension that I really appreciated.
It was wonderful to listen to your guest describe
what happened in Greece. It gave me a sense of context as well as
a personal view of what the Greek people experienced. Otherwise,
the Greek revolution would've remained just one of many events
concentrated in those years to me. Instead, I have a more detailed
idea of what it was like for them, thanks to you.
Now you are playing FANTASTIC Iranian music. Truly a great show, Dore. Thank you so, so much for doing
this every Saturday night.
As usual, I'm painting while I listen to the show.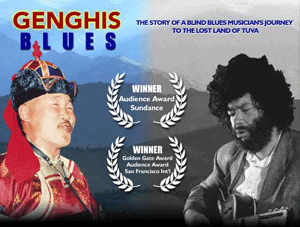 3/29/1962 - 7/25/13
Tuva's Music Ambassador to the world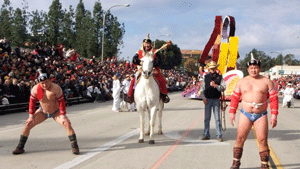 Ondar (on horseback) and the Eagles of Tuva
in the Pasadena Tournament of Roses Parade -- 1/1/13
courtesy Ralph Leighton

Tangents Community Responds to the passing of Kongar-ool Ondar

Kumiss
in memory of Kongar-ol Ondar

kumiss
kumiss
the udder is filling
kumiss
kumiss
a distant thunder
kumiss swelling
like rain it comes
like rain it drops
fast and furious
O skin O supple boundary
kumiss sizzling
kumiss roiling
kumiss, my life
my blood my milk
heavy are the lungs
kumiss
heavy are the veins
kumiss
the bowels
O skin O supple boundary
a horse is galloping
a bird screeches
kumiss
kumiss
cannot be held
cannot be drunk
Kumiss, my throat is parched
kumiss
take all you want
my eyes are burning
kumiss
kumiss
the seams are breaking
OPEN!

Kargyraa

*
Could I make tongue say more than tongue could utter! Could I make brain grasp more than brain could think! Could I weave into immortal denseness some small brede of words, pluck out of sunken depths the roots of living, some hundred thousand magic words that were as great as all my hunger, and hurl the sum of all my living out upon three hundred pages—then death could take my life, for I had lived it ere he took it: I had slain hunger, beaten death!
Notes:
Kongar-ol Ondar (1962-2013) was a master Tuvan throat singer.
Kumiss is fermented mare's milk. A Tuvan drink.
Kargyraa is a deep sounding style of Tuvan throat singing.
"Could I make tongue..." passage by Thomas Wolfe, The Web and The Rock.
Emails from Tangents listeners on learning of Kongar-ool's passing:
Ted J. Rucker


Thanks so much for sharing the sad news that the great Ondar has passed. I was there that magical night at Castro Theater. He, Ondar was amazing, he had a presence you could feel form a distance. It was through you and Tangents that I really came to love and understand Tuvan throat singing. He lives on in his own words... throat singing... "the immortal part of ourselves."
Please share the dates of the fund raiser. I will share this email and others with my friends. Perhaps we could ask for donations as well from those who cannot attend.
May his body rest in peace as his sweet soul rises.
Music is the magic.
Amrit Chaudhry

Goodbye, The Real Deep Throat. KOL was a big-hearted, generous man and so good to Paul Pena. The standards of friendship are set by people like him

Mimi Heft


This was a sad surprise for me. I've seen Kongar-ool Ondar and the others many times; and I felt his was the most pure expression of joy and delight. Just looking at his smiling face was all you needed.
I'll share this little memory, from a performance by Kongar-ool Ondar and his band at Noe Valley Ministry. "This song is about a horse," he'd say; followed by "here's a song about a horse that's running." Then again, "this is a song about a herd of horses." And then, finally, "this song is about a pretty girl… … … and her horse!"
He could barely contain his laughter.

and one more from Mimi:
A lot of my friends are sharing thoughts on the passing of Kongar-ool Ondar, and one pointed me to this
overtone music played on tuba
.
(I suppose you could call it "tuba throat singing"??) Enjoy.
Melinda Russell
Paul and I send our deep love and condolence for KO's passing. Paul and I were blessed to be a part of that early experience of them, and we were blessed to have been there the night they arrived in California- at Ralph Leighton's wife's sisters house - and at the art museum. I remember they arrived late after Ralph had taken them to the hot tubs! What a beautiful funny and very real soul he was and what beautiful times. His voice and spirit live on. Thanks Dore!

Meri Mitsuyoshi
Thank you so much for your recent hour on Kongar-ol Ondar. What a wonderful tribute to such a beautiful being.
Your, Lemon's and Seth's love for Kongar-ol was palpable. What an irreplaceable treasure he was.
Lemon's recording was jewel-like in its perfection.
And was it Seth who said, "When he smiled, it was like they turned the stadium lights on!"?
While it seems fitting for the recording to disappear from the KALW archive site in a few days, I'm writing to ask if there is any possibility that it could remain available for listening or downloading. On the Tangents website, perhaps? Or as a podcast?
On the other hand, Kongar-ol's departure is also a lesson in impermanence. If it isn't possible to hear the tribute after Saturday, I will hold the precious memory in my heart.
Thank you for your dedication to your listeners and the musicians of the world.
Roy Peterkofsky


I was really bummed to hear about Kongar. I think I won tickets from you to see the screening of
Genghis Blues
at the Castro where he performed. Above and beyond his musical talent, he had such an amazing aura about him. Just his smile was electrifying in a calming and disarming way, even from way across the room. It made me very sad to know that the world is without that now.
Karen Larsen
Thank you Dore. Although the news is bad. What a wonderful man he was.
Gregg Butensky

Sad news. He was way too young to go.
I love your story about that first call from Paul Pena.
I trust you'll keep us posted about the film screening.
Davey Ijams
How may I donate to Kongar's memory?
Jeanne Dorward

Thank you for sending this announcement - I doubt I would have seen it otherwise. I was in the audience when he performed at the Asian Art Museum in the '90's and was blown away. I had no idea what to expect and my attempts to describe it to friends afterwards were completely inadequate. It saddened me to learn he was only 51 when he died. He had such a sweet demeanor. I've also seen Genghis Blues and if there's a memorial screening I'll definitely attend.
I won't be home to hear your program this evening - at least not the 9 o'clock hour - but I got my Echoes of Tuva CD out and will play it and remember a unique and special experience.
George Brooks


Please let me know if there are plans for a screening of Genghis Blues or other form of benefit
to raise funds for Kongar-ool's children.
If they would like music at the event I would be happy to organize something.
I think that the benefit for Paul Pena- may be the first time we met and I still remember it fondly.
Cait McWhir

Oh that is sad. Once he came to a Haunted by Waters rehearsal, it was REALLY fun!!...he did throat singing on one of the more gaelic-sounding songs...i.i have a cassette somewhere but who can play such things anymore.
KO
as the yout say: OMG!
This is a hard one.. I met Kongar at the asian & the next time over , he brought his son. He is not very old !
A totally cool guy and path finder for TIvan music into the "west". I didn't know he was called "KO" in musical circles!
I am not a CD buyer, not in my budget, but I have a few I will have to pull out and indulge now/
OH! my heart!
I am sure he is out there, in tune with the cosmos..... at one w/the hearts he touched through his singing!
Ian Dogole
That's sad news. He was a shining light.
Linda Lawrence
OK is a great ambassador for world music - he lives on in song and sound.
Stasha
Dore, thank you for this heartfelt tribute to an exceptional artist, one the world was honored to hold and will never forget. Thank you for your part in his western presence. with love,
Terence Groeper
Sorry to learn, just now, of Kongar-ool Ondar's passing...a unique voice and remarkable spirit.
Don
Coolidge

Very sad news, Dore. "Genghis Blues" is one of my favorite films,
even more for the people in it than for the story. And it's a wonderful
story. My sincere empathy and best wishes for all of Kongar-ool's
family, and for everybody who knew him personally or even felt that
they knew him through his wonderful openness in "Genghis Blues".
We get older, and one by one we lose family, friends, and people
we love and admire. It's never fair, only inevitable. Even so, I feel
that I'm a better person for having heard some of Kongar-ool's music,
for having seen a bit into his friendship with Paul Pena, and in general
for the gifts of his talents and his humanity, all of which made the world
a better place.
I'm glad you'll be paying tribute to him - it'll be good to hear his voice once again.

Mary Farrant
So sad - please let me know when the memorial screening is scheduled.
Thanks.
Philip Pierce
Sad indeed, I still listen to my "KO" CD's and i still remember meeting Paul at a Tangents Party in Radio Valencia, that was the first time I heard of Tuva and it was a very memorable evening.
Another very memorable evening was in the church in the Presidio, music that made the hairs atand up on the back of my neck.
Even though I have a copy of Genghis Blues I would love to see it again on the big screen especially in the Castro..
Keep us posted.
I will hoist one in Kongar-ool's memory this evening.
David Vartanoff
sad to hear. would be happy to see Genghis Blues again.

Jeanette Cool
Thank you for this sad news....I too remember his singing at the Castro for Genghis Blues -- so sorry. A loss, indeed.
General Tangential Feedback
Julia Gilden

, Oakland

I was listening to Tangents last night, very much enjoying the music. I just returned from a couple months in Israel. Just like all the music - beautiful, creative, tense, anxious -- anyway, I would love to get a copy of Kinan Asme's piece you played.



Rita Karuna Cahn

, San Francisco

Thanks for your show & especially for "Gaza Corner!"



Guitarist
Cenk Erdogan
, Istanbul, Turkey


You are very important in my life Dore. You have a vision of future and you know how to rotate people and I love it :)
Guitarist
Danny Heines
, San Francisco
You play the best fucking music!!!! Week after week.
I learn about new music or am otherwise inspired every time I listen.
Keep up the good work!!
Tim Isom, Outer Richmond (SF)
I have the most creative burst listening to your show - multitasking like a banchee as we speak!
Jackson Nichols, Fremont
I tune into Tangents every Saturday night. I am a film photographer (black and white) and your program is perfect for working in the darkroom.
Keep stretching my boundaries.
Jane Phillips, Berkeley: I happened to tune into Tangents last Saturday, while you were playing that cut by Dhafer Youssef and Paolo Fresu from the Belgrade festival, and I was stopped dead in my tracks. That was amazing. I did not want to move, so as not to miss a note. I'm so sorry it isn't commercially available; perhaps you can urge somebody to produce it -- and more of their collaborations.
I'm emailing to ask if there's any possibility that you can play it again on Tangents --
and if so, could you please let me know when, not only for my own listening experience, but I want to let other people know about it, in particular, Rachid and Adil, the owners of Mo'Joe Cafe -- perhaps you know them; they're both from Morocco, run a very cozy coffee shop at the corner of Sacramento and Blake in Berkeley, and are deeply devoted to all
the arts. They have occasional concerts (not just of Middle Eastern music, but all kinds
of music, art exhibits, and readings. I'm sure that they'd be very interested in hearing this. Tangents is a wonderful program.

Arabella Dorth, San Francisco:
Great music programming and appreciate the playlist - you've introduced me to some fantastic artists, whose music I carry with me on my iPhone.

Don Coolidge, Palo Alto:
Whenever I go to bed on Saturdays, I make sure that my clock radio's sleep function will keep Tangents playing until midnight, even if I fall asleep earlier. A few weeks ago I did fall asleep, but for some reason woke up shortly before midnight while you were playing Brian Eno's 1/1 from "Music For Airports". I woke up with the most profound sense of peace and well-being imaginable, and it only increased as the song continued. It's so much like a Zen mantra, except that it never repeats quite exactly, and both the piano and the background sounds were so calming, so expansively celestial, and so simple and right, that I was left with the deepest sense of peace and happiness I've had for
as far back as I can remember.
It's become my salvation whenever I'm in especially stressful commute-time
traffic, and I play it on a lot of other occasions as well. I'm not usually an
ambient-music sort, despite liking "Music From the Hearts Of Space", so
this is highly unusual behavior on my part. And once again I must thank you
for introducing me to music I'd never heard before, that I now own and love.
It was also fine to once again hear the Trey Gunn piece "Into The Wood"
last Saturday, another of my favorites that I own and that you play a few times each year.
I know that when I comment on things I've liked about Tangents broadcasts, I
usually mention only artists I either own works by or am about to (lots of those, for sure), and hardly ever talk about the other numbers you play, rarely talking about the world music segments (not never, but rarely). Just need to say that I enjoy those tremendously as well, and that they, too, have frequently led to increases in my music library's depth and breadth. So, once again, thanks.


Thomas Bruder, West Hollywood:
Wonderful show last week:
from Machito to Dr John, Mahmoud Ahmed, Keyvan Chemirini and so many other great tracks. I think Mahwash has made some of the most beautiful music I've ever heard—hope you play more of her!
I'm from Florida by way of Tennessee. I was a student of foreign languages, and became addicted to internet radio from France and Germany to train my ear for language. One station I listened to all the time was Multikulti before they shut it down—such a shame! But of course they still have multikulti.fm. I came across your show through Multikulti, if you can believe it. I immediately started listening directly from your website after I discovered it. I *love* middle eastern music, particularly Turkish, Israeli, and Iranian music, and others, and also love Indian classical and folk music. Your show has introduced me to so many great performers, and also a broad, complementary mix of other music from other cultures.
My wife and I moved to California recently, and I am preparing for the California bar exam next week. Your show has been the soundtrack to my studies!

Eliot Miranda:
I just want to say how fabulous Tangents is.
I've grown up listening to flamenco (Manitas de Plata when I was a mere 7 years old),
John McLaughlin and all that jazz and Tangents is right in my groove; a continual delight. I'll never forget hearing Derek Trucks playing Sahib Terri Bandi for the first time on the radio in my kitchen.
Keep it up man, I so appreciate what you're doing (not to mention sticking up bravely for the Palestinians). Many, many thanks!

Lou Winant, Seattle, WA
: " I spent an entire undergraduate career staying up late to listen to Tangents. These were heady days of massive musical exposure--Rabih Abou-Khalil (learning what an 'oud' is!), Ali Farka Toure (when his catalog was still on Mango and relatively unknown), Michael Hedges (RIP), Mouth Music (well before ethno-techno was big). This was my soundtrack to education and an education in itself.
Since then...my own chance to explore live on radio via a world music show on KCBX (San Luis Obispo)...deciding that I had to further with this thing and entering an ethnomusicology program in Seattle...and now almost done with a Masters.
Thanks for broadening my perspective and even giving me a path to follow. Three cheers for musical diversity. La "Tangents" viva!

Mary Connors, SF
: Dore Stein has been gifted with a vision. And, because I live in the Bay Area, I am one of the fortunate recipients. Long before there was so much discussion about the healing force of music, Dore was choosing pieces that dipped into the well of our hearts, stirred our imaginations, expanded our sensitivity and knowledge of other cultures, and last but certainly not least, excavated our passion. In just one evening, I can experience the spirit of Finland, the journeying of Tuvans, the innocence of Estonia. My only wish at this time would be for Tangents to be available nationally for all of my friends and family to partake. I have sent tape recordings across the country but they don't add up to Tangents live and so fully alive.

Jeffrey Porter, SF
: "Your show is the only music show I tune into on a regular basis on the radio. There is nothing like it! The abundant information, resources and education regarding music not typically heard on the airwaves is so rich. It is one of the high-points of living in the Bay Area. KALW is permanently dialed into my car radio because of programs like Tangents!"

Louisa Spier, Oakland
: "An exquisite blend of genres"

Todd Semo, SF
: "Thank-you for an eye-opening show."

Chris Matzner, Berkeley
: "I really enjoy Tangents -- it's a great way to find out about music that I'd have no exposure to otherwise."

Lynda "Lulu" Winslow, Berkeley
: "Thank-you for such a quantum leap in understanding different types of music."

Carla Power, SF
: "The first time I heard Tangents I was immediately drawn to it. When Tangents ends I begrudgingly turn off my radio and return to the same cd's I always hear. That is why I love the radio - it is something new to listen to that you don't own."
(Carla has since passed away and is deeply missed.)

Dan Ciccaroni, SF
: "I was mesmermized."

Mimi Heft, SF
: "You have the record collection of my dreams, and I think Tangents is the very best there is on the radio. Thank you so much for providing all of us--musicians and listeners alike--with exposure that would otherwise be unavailable."

Pamela Stagnaro, Alamed
a: "It is very important to me to have a station that plays eclectic, multicultural music. I look so forward to the show. I am not aware of any other show in the area that compares (when I travel to LA I catch "The Other Side" on KCRW out of Santa Monica). Anything you can do to keep Tangents on the air is greatly appreciated."

David Swope, Marin
: "I don't think I can live without Dore Stein's Tangents show. There's no other program that gives us such variety, depth and special attention to world music and to all the eclectic musical tastes of San Franciscans."

Bob Bogard
: "Tangents is such an amazing show -- you have a truly excellent talent for finding really stunning pieces and choosing songs from all cultures and music styles that fit together nicely."

Peter Scott
: "You are a music mixing maestro. You care about the music you play and their combinations are great and sometimes bordering on the sublime. But hush now. One should stand back and become more objective in praise and appraisal. But the man can put some shit together."

T.H. (SF
): "Boadens my horizons"

Amy Hanks, Petaluma
: "The shrinking of boundaries between nations and ethnicities which is so important for peace in the next century necessitates learning about many aspects of other cultures. Mediums such as music that allow us direct access to the hearts and sensibilities of other peoples are an invaluable part of this process, and Dore does an admirable job of selecting works of this nature that are both interesting and enjoyable. I am also consistently impressed by his ability to accentuate the synthesis of cultures that has already taken place in some musical circles thrugh his selection of works by artists in the West that incorporate ideas, sounds, and rhythms from other traditions."

Lilinah Biti-Anat, Oakland
: "Thank you for your wonderful shows. Even better than Free Form Radio of the '70's. Your shows are truly unique (although i realize this word is much abused and misused)."

Stewart Caskin, Sausalito
: "Tangents is a holiday in my heart everytime I hear it."

Suzanne Ayriss, SF
: "I must say, I really do love your show and your hard work."

Mary Small, Corte Madera
: "Everytime I turn on the radio I wish it was Tangents. It's one of the best things in my life"

Bethany Richardson, Fairfax
: "I've never heard anything like it."

Hanafi Russell
: "Dore creates a feeling in his listeners of their being part of an exciting, elite community. He brings us along on the quest for the kind of new music that is welling up between cultures just like the volcanoes that form where the continental plates meet. New technology is allowing different musics to ricochet off all sorts of aesthetic surfaces, each time taking on new spins and going off on new tangents. We are both being exposed to many kinds of indigenous music that are just now being made available and hearing new blends and mergings that are forming where they meet western culture. This is an exciting time, and Dore is there tracking and bringing it to us.
Dore does not just spin the music. He cares about the musicians and his listeners. He informs us about the musicians, promotes worthwhile local events, and carries on a lively connection with us listeners through concert giveaways and amusing contests. I once responded to a contest question when Dore was asking for an obscure word beginning with "e" and meaning "warm praise." The word I thought of, eulogy, was not the one that he was thinking of, encomium, but he said he "would put it to the judges" in the studio. It was that kind of good spirit that makes the show a lot of fun."

Cheryl Cohen, SF
: "You have great musical antennae."

Cici Kinsman, Oakland
: "World's best radio is Tangents!"

Kendall Hoffman, SF
: "I love this show because it feeds my soul."

Bruce Averill, Petaluma
: "Intellectually and in my heart I'm loving it."

G.S.
: "Thanks for a consistently enjoyable show: thanks for playing a track from Eno and Byrne's "My Life In the Bush of Ghosts on Saturday (?) I remember buying that album (vinyl) at Rasputin's in Berkeley a looooong time ago. Keep up the good work. Your show is invariably interesting and challenging and I appreciate the fact that it features stuff I've never heard next to stuff I haven't heard in a long time."

Rashmi:
"Penetrating my cloud and making me clear inside."
back to top of page