October 7-24 2017
Tangents Greece Music Tour

Thanks to Nora Privitera, Elaine Schwimmer, Brenda Cravens and Hilary Winslow
for text contributions.


(photos by Dore Stein unless otherwise noted)

Oct 7
:
Airport arrival day. We had dinner at my favorite seafood restaurant in Athens and then a late night orientation at our hotel garden terrace overlooking the Acropolis.
Oct 8:

The day started with a walking tour of Athens as we explored the neighborhoods where Athens began including narrow alleyways, hidden courtyards and ancient buildings.
We started the music tour with a doubleheader.
Earlier in the week while doing advance work I learned about a cool cafe where musicians hang out. Turns out this afternoon Banda Jovanica was playing there. Banda performs Roma (Gipsy) music from Central and Eastern Europe. It was quite unusual to see a Greek band led by a cymbalom player - which is most commonly found in Hungarian and Romanian music. Our group was treated to this band playing inches away from us.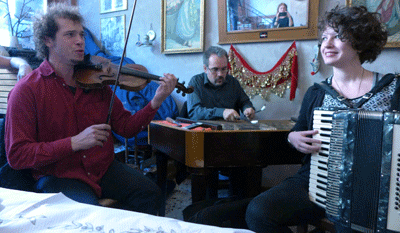 Banda Jovanica performing next to our lunch tables at cool cafe in Athens
photo to right:
drummer Dimitris Klonisaron performing with Alekos Vretos Quintet
during Tangents tour performance
The evening concert was the Greek/Arabic jazz ensemble Alekos Vretos Quintet (oud, kanun, piano, bass, and drums). The was the opening concert of the 6 concerts series arranged with Underflow. It is a performance space, art gallery and vinyl/cd shop all in one. No concert club can survive producing only live music because clubs are taxed 53%! Insane but true.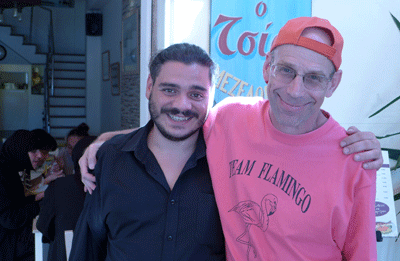 Alekos Vretos and Dore the day after the concert at a taverna on
Alekos home island, Aegina.

Oct 9:


We ferried to the island Aegina, where Alekos Vretos lives. The group got to talk at length with Alekos at a delectable outdoor taverna overlooking the water.
Evening concert was with Tangents favorites Kristi Stassinopoulou and partner/husband Stathis Kalyviotis.
Hilary Winslow emailed me afterwards:
At the gallery performance space I could not take my eyes off Kristi Stassinopoulou, and I found her music completely enchanting.
Oct 10:

The morning started with a street art and graffiti tour by a street artist.
(See top of page for example of Athens street art.)

Tonight's concert was with the Balkan-Roma (Gipsy) inspired Balarom Trio featuring the unusual combo of trumpet, oud and cajon. Famed clarinetist Ivo Papasov recorded on their most recent self-titled cd.
Oct 11-13: Crete
Brenda Cravens: What an Introduction to Crete! Great hotel on the beautiful harbor in Chania, a day at a beautiful beach, swimming in the Cretan Sea, superb meals. It feels like each day can't be surpassed and then Dore thrills us with another sublime concert like last night's with the bigger-than-life musician and human being Ross Daly. Not only great music, but an amazing conversation afterwards that let us see into his life and wholistic philosophy of teaching music. We are soooooo lucky to be part of this odyssey with Dore.
Oct 11:
We arrived in Chania, Crete by air in time for a late breakfast. Old town Chania is charming and picturesque located by the harbor. The group enjoyed free time
until the evening concert with the Cretan group Daulute Trio.
Elaine Schwimmer: The place was on fire: I thought the roof would rise, the music was so intense. Reaching crescendos over and over Daulute Trio played on and on. Quiet and exquisite, then blowing blasts, delivering a thick molten ravishing soundscape. Lute, sheepskin bagpipes and daoulaki blew you into happy land, taking you to places you had never been before.

The concert hall, a renovated industrial space at the end of a dark road, was the
perfect venue, opening out onto an ocean veranda. We walked right up to the ocean, its rhythm lapping along with the night. The air was warm and still, stars punctured the black sky. The large room was filled with people, drinks, now up out of their seats rising with layers of exquisite music.
Nora Primitera: The Daulute trio was for me a major highlight of this tour. I had never heard anyone play a lute with such percussive force; it was intense, exciting and utterly beautiful. And the guy on the wind instruments was phenomenal. The drumming was also beautiful and the singing was soulful.

I did not know what to expect from Cretan music but I was absolutely blown away. The concert didn't begin until 10:00 pm, and we'd wall been up since 4:00 am, so we were pretty much falling asleep by the time the concert began, but as soon as it began we sat right up and we're just riveted, all the way to 1:00 am when the concert ended.
Oct 12:
This was a day of contrasts. We traveled to the silky sand and turquoise water of
Falasarna beach.


Falasarna in all its glory with Pete looking on
(gorgeous photo by Carolyn Wright)
Next we went to the secluded stone village Milia, tucked high in the mountains.
Hilary Winslow: We travelled to an old village of stone houses (Milia), run by a utopian Greek with a sly sense of humor, where we were served an eggplant dish to end all eggplant dishes. The combo of Daulute Trio and Milia in less than 24 hours made this one of my most treasured days, not just of this trip but of my lifetime. Pinch me.
Oct 13:
This was Ross Daly day. Ross is the greatest living Cretan lyra player and one of my all time favorite Tangents artists. I'll let Nora Primitera take it from here.
Then there was our private concert with Ross Daly and Kelly Thoma and the talk afterwards. This event was in a class by itself. I've been hearing about Ross Daly for at least 20 years, and to hear him and especially listen to him speak about his musical journey and his philosophy of teaching was a rare treat. Thank you Dore especially for that; without your personal connection to him we never would have had this experience.
Oct 14-16 Thessaloniki
Oct 14
We had free time until our late afternoon flight to Thessaloniki. Originally I planned a concert for this evening. But a few weeks before the tour a half marathon was scheduled. All downtown was shut down in observance of the event. Many in the group partied with the revelers as the runners paraded thru
the city center.
Oct 15
This was our rebetiko day. It started with an expert guided rebetiko tour.
Nora: All of our tour guides were articulate, intelligent, and very well informed, but Tassos in Thessaloniki was the best. After his Rebetiko tour I felt like I had just attended a graduate course in Rebetiko, and he was equally interesting and informed about Thessaloniki's troubled history. He was so prepared, too, with his laptop, pictures, videos, etc. Mind you the others were all very good too, but Tassos really was outstanding.
Brenda: Our guides in Athens were terrific ,but Tassos here in Thessaloniki was the best I've ever had anywhere. He showed us all the important monuments, churches, mosques, etc.., but also the backstreets, markets and prison, educating us all the way with the fascinating history of this vibrant city, its important figures and -to add to our musical enjoyment - the history of the Rebetiko tradition...His stories included lots of pictures on his iPad which he had organized superbly to add to his narrative. Highly educated and enthusiastic about the subject of his city and all things Greek, as were our guides in Athens, these tours were stimulating throughout. Kudos to Dore for finding the best guides in Greece!
Dore: The evening featured Greece's top rebetiko guitarist Dimitris Mystakidis. I was especially pleased that Tangents sponsoring this concert enabled it to be free for all the Greeks. It took place in beautiful Yeni Camii mosque that was filled to capacity.
Elaine: Wine was served outside the church. Inside, when the concert began, a large screen showed video from the past, a visual accompaniment to the songs.
A churning ocean, a ship on the sea, these were motion pictures of the actual
passage of Greeks to the promised land, America.

The mournful laments of Dimitris Mystakidis took you to another time, the beauty
of which was almost unbearable. With a guitar accompanying, he played in a
magnificent manner sort of mimicking a Greek instrument, sang his heart out as
we listened and watched.

The Yeni Camii mosque was full of Greeks who had come to see this balladeer singing of the past. The longing and respect were tangible as he serenaded us, one song after the other, a heartbreakingly beautiful performance.
Oct 16:
Daytime was a walking tour of multicultural Thessaloniki.
Tonight's concert was the Kyriakos Gouventas trio. Kyriakos is considered Greece's top violinist for his mastery of traditional music from the islands and
the mainland. He is also co-founder of Savina Yannatou's famed band Primivera en Salonico. About ten years ago I produced their concert in San Francisco.
Nora: For pure joy, I would vote for the concert in Thessaloniki, in the cafe, with
Kyriakos Gouventas on violin. I loved watching him; he seemed to be having
the time of his life.
Oct 17-18: Pelion
Oct 17
Today started the bus leg of the Tangents tour. We traveled to Portaria, a village in Pelion which is a mountain region perched above Volos. It is my favorite destination in Greece because of its beauty and spiritual connection. I have wonderful memories of traveling here with my mother in the 1980's and 90's. My brother and I scattered my mom's ashes in Pelion among other sacred spots in Greece where my mom used to live .See Communion with My Mother for the story.
Pelion is a place where individual exploration is rewarding. Our only planned activity this day was an hour leisurely hike in the forest accompanied by the soundtrack of water flowing in the creeks.
Nora's thoughts: But for sheer charm, Portaria wins my heart. The hotel Kritsa, with its giant 17th Century tree, was utterly charming,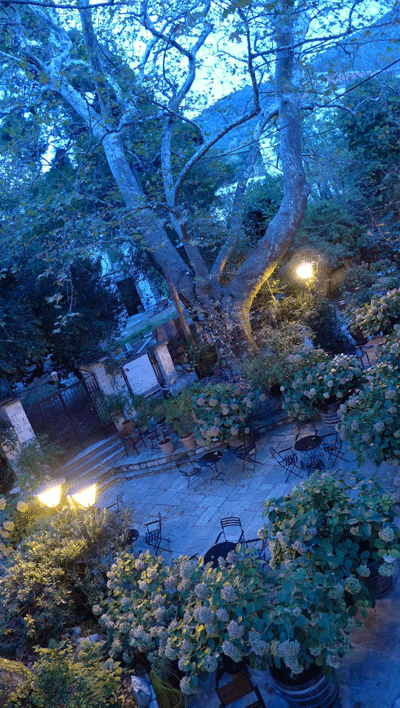 and the village itself and the one next to it, Makrinitsa, were so beautiful that I could not stop taking pictures of them.
Oct 18
Half the group traveled to secluded Mylopotamos beach while others preferred to relax or hike back in Portaria.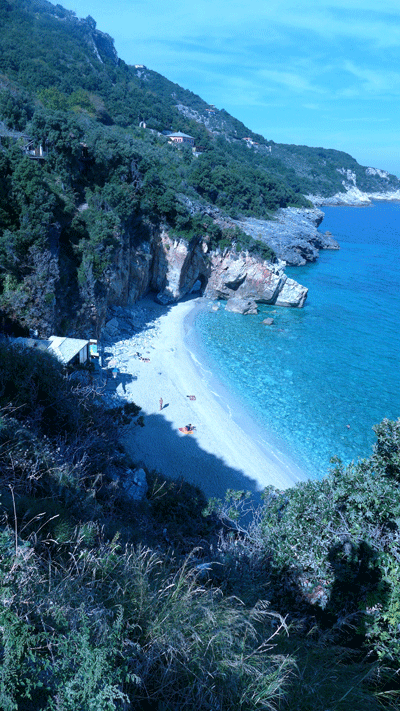 View of Mylopotamos Beach from where the bus was parked. There is an even more secluded section of beach thru the hole in the rock.

Oct 19:
We bid farewell to Pelion and drove to Meteora.
Nora:
It's hard to top Meteora for a spectacular setting. Astonishing to think that those 14th Century monks built the monasteries on the tops of such inaccessible mountains.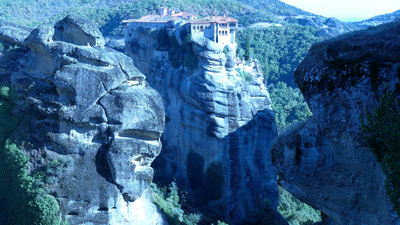 After our guided Meteora tour we traveled the winding mountainous roads and thru several tunnels to Metsovo. We had dinner hosted by the ebullient taverna owner Heidi, pictured below with Pete.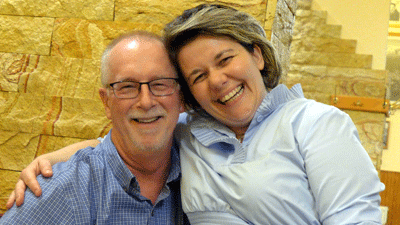 Our final destination on this busy day was Ioannina where our lovely hotel welcomed us for a good sleep.

Oct 20 Ioannina/Zagohoria
Oct 20:
Morning was spent exploring Ioannina. At noon we drove to Zagorohoria (Zagori) in Epirus where 48 villages are clustered in the Pindus Mountains. The Nazis bombed the villages and half of them remain mostly depopulated. A tragedy that resonates strongly with many Greeks.
We first traveled to Aristi and then to Megalo Papiga, the most difficult village to reach in Zagori but also the most dramatic and picturesque. Our bus driver negotiated the hairpin turns and a narrow bridge with ease while members of our group gasped.
We had lunch at a taverna that served organic vegetables grown on its property and served fresh trout despite the creeks being rather dry. This region historically receives the most rain in Greece but had not rained in four months. Climate disruption knows no bounds.
We ate under a veranda reminiscent of the Jewish holiday Sukkot.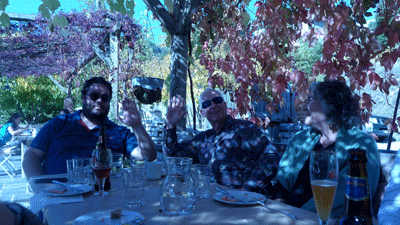 Our bus driver Socratis, Ron and Nora eating lunch in Megalo Papiga
We traveled across Zagori to the village Ano Pedina for a village concert with Epirus musicians. This was a major event for the locals.
Nora: A runner up for joy and a sense of community for me was the concert of Epirus music in the village of Ado Pedina. They may not have been top musicians, but for creating a sense of community they excelled.

Hilary: I think and thought it was great to see that music in that setting, and to see the villagers who seemed so excited. I'm glad u did it, I was looking for a taste of everything and that was diversity!
Oct 21-24: Athens
Oct 21
Fog cast its shadow over Ioannina and our flight back to Athens was delayed four hours. Lucky for Carol. She left her cherished Metsovo cheese at the hotel and had a taxi retrieve it and bring it to the airport.
The group voted to return to the outstanding seafood restaurant in Athens that served us our opening meal.
The evening concert was with an ensemble featuring oud, lyra, kanun and drums led by oudist Haig Yazdjian. I am not sure anyone in the group was familiar with Haig prior to the concert. That all changed in breathtaking fashion.
Haig's albums are fine but nothing prepared me for this night. Haig played in 20 minute bursts where it was impossible to know where one song ended and another began. I was so enthralled after the first medley of songs I asked Haig to identify them. He looked disoriented. Finally he said "I don't have a set list." I didn't realize that asking the question knocked Haig from whatever world he was in. The band performs on an improvisational plane few artists achieve. They did not know where the next note would come from but played as if they were one organic unit. It was a transformative experience. One of the best concerts I have ever seen.
Oudist Haig Yazdjian and drummer Thanos Hatzianagnostou

Hilary:
No words! Tonight was the best yet, unbelievable! Heavenly! ??thank you!!! (We gotta get them to U.S.!)


Brenda:
He and his band were my favorite. Unforgettable.

Nora:
I know everyone thought that Haig Yazdjian's concert was the A++ of all our concerts, and it was wonderful, transformational, even. Haig did seem to be in a trance, and brought all of us along to visit another realm of existence.
Oct 22:
The day started with an Acropolis Walking Tour, including the splendid Acropolis museum.
The concert du jour was rising star Martha Mavriodi and her quartet featuring Martha on vocals and Greek lafta. This instrument was popular among Greeks in Asia Minor during Ottoman times.

Oct 23:
The last day of Tangents music tours is always free time until dinner and our final concert.

This was the 6th and final Tangents sponsored concert at the Athens Underflow music series. Fittingly it was sold out as locals crammed in to see the first Athens appearance of a new duo: Evgenios Voulgaris (yayi tanbur) and Sokratis Sinopoulos (Politiki lyra). I must admit the majority of Greeks in the audience were musicians. Sokratis is Greece's finest Constantinople (Politiki) lyra player - the lyra mainly used by Greek immigrants from Asia Minor and in classical Ottoman music. Evgenios is tops in his field on the Anatolian yayli tanbur and both are masters of modal improvisation, the type championed by Ross Daly. The concert was titled "Inside-Out Dialogues".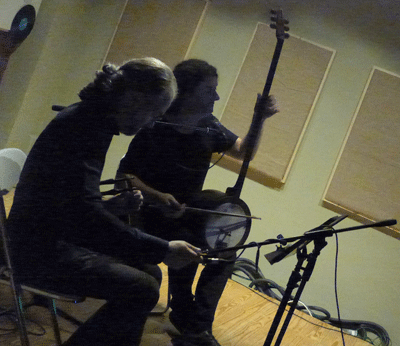 truth be told this concert was in the virtual dark so with post production boosting
of fill light and highlights, a photo emerged
Once Evgenios and Sokratis started they never stopped...playing for an hour and a half. It was one of the most appreciative audiences of the entire 12 concert music tour.
Oct 24:
Back to Reality
This was the most satisfying music tour I have produced. It was a challenge to produce a music tour in a new country after ten years in Turkey. It came off without a hitch. We had a wonderfully tight 15 person group. And it's cool that immediately after the tour, Hilary announced a January reunion.
Carolyn: The group is really friendly, interesting, sympatico. I'm having a wonderful time getting to know them, hanging out with them.

The next Tangents Greece Music Tour is scheduled for October 2018.

If you wish to be in the loop, email tangentsgreeceytour@gmail.com.
Enriching lives through music and travel,

Dore and Tangents Radio