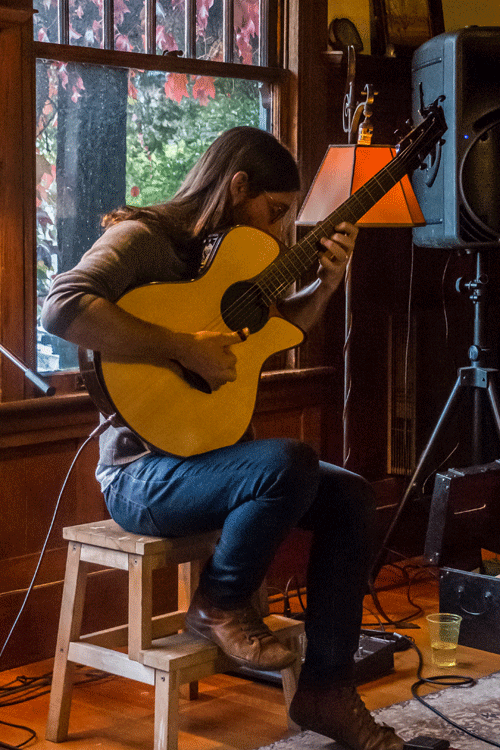 Guy Buttery performing at Berkeley Tangents Party Sept 4, 2016


(photo by Nick Winkworth)


Audience response from Guy Buttery
SF and Berkeley Tangents parties

That was astonishing.
I've been listening to this week's program repeatedly, and turning other people
on to it as well.
Thank you thank you thank you.
Frish Brandt
Unbelievable performance by your friend Guy on Sunday night. I'm now a big fan of his. I would love to see him perform again when/if he's back in the Bay.
Thank you for the introduction to Guy Buttery and his music.
Phil Lowenthal
Guy Buttery was fabulous both live and on the Tangents show Saturday night.
Don McMurtry
Thanks for putting on another great house event. I quite enjoyed the music, company, food and proximity to my Berkeley home.
Marc Sutton
Hi, Dore - Great concert and party Friday night. You certainly know how to create community.
Janet Lynn
I loved your guy Guy!
b'shalom,
Denah Bookstein
Thanks Dore for promoting, producing and hosting, yet another great musical experience. What a nice venue, and close to (our) home too.
Good holiday weekend with the three of you...Guy, and yourself, having listened to the interview Saturday night with Joel. Nice to have such depth of experience between the program and the concert.
Alice Ross Leon
I'm still reeling from the Guy Buttery party!
Felix Rigau
That was a really terrific event last night.
Guy Buttery was amazing.
Thank you so much for co-ordinating everything.
Jan Michaels
Thanks again to all involved - terrific event as always!
Nick Winkworth
Thanks so much for my first Tangents party!
It was just fabulous...thanks for picking me up and letting me help out a bit, and your cat Klimey is the best....
Good food, excellent hospitality, wonderful guests, and of course the Guy Buttery
music magnificent.
Mahalo nui,
P2
Well, that was amazing.
I feel so fortunate to have enjoyed the talented Guy Buttery (I've been watching the Half a Decade Video to keep the experience going...) and a roomful of terrific people - and of course...Clara, Klimey and you. :)
The evening lifted my spirits - thank you!
XO,
Sandy
Just want to thank you deeply for the wonderful evening at Berkeley. So great to meet you "in the flesh" finally, tho i feel like we've been friends for years. Great to meet Guy as well -- I chatted with him several times, and hope to keep in touch. We were lucky to be in such a beautiful house. I met a lot of really nice & interesting people. Not to mention, what a feast! :-) And the music... just incredible. Whew! What a talent.
Looking forward to more Tangents events.
best wishes from Oakland,
Fred Z
Great concert and fabulous venue
Carol Baum
I'm listening now to the archived Tangents show from last Saturday featuring Guy Buttery. It's a wonderful segment to catch! I was hiking in Desolation Wilderness over Labor Day weekend, otherwise I would have caught his show in Berkeley. Hopefully there will be another opportunity to catch him live...even if it is at the Freight sometime down the road.
Laurie Polster