Persian vocalist Mahsa Vahdat returns for a Tangents living room concert. Her voice is one of pure beauty and heartache. Her depth of emotion is astounding.
Mahsa will perform a cappella and also accompanied by her husband Atabak Elyasi on Persian setar.
The last time I saw Mahsa perform was with the Kronos Quartet earlier this year at the SFJAZZ Center.
David Harrington introduced Mahsa (paraphrasing): "There are voices so special, the memory of the first listen never leaves you. Mahsa Vahdat has such a voice."
Mahsa's 2016 a cappella cd "
The Sun Will Rise
" was recorded in old churches, castles and halls – in Van, Istanbul, Oslo, Wroclaw, Provence and in the Alhambra. Her orchestra is just the echo from walls and vaults, floors and columns in the rooms chosen for recording.
Mahsa wanted to go to similar places in Iran, but because women are not allowed to perform in public places there, she had to record in other countries. In some places, the presence of birds, footsteps, bells, distant voices, brooks and fountains became natural elements of the flow of music.
Most of the songs are Mahsa's own melodies composed to traditional and contemporary Persian poetry.
Mahsa discusses "The Sun Will Rise" in this 5 minute
video.
Check out this
video performance
of a lullaby on the new album recorded at the Alhambra in Spain. Mahsa's voice is mesmerizing.
Her previous cd
"Traces of an Old Vineyard"
was chosen by Songlines as one of the best albums of 2015.
Her contributions with her sister Marjan were the highlights in the 2004 thought-provoking musical statement
"Lullabies from the Axis of Evil".
The concert also provides a rare opportunity to hear from a singer who lives in a country where women are not allowed to sing solo in public.
Since 2007 Mahsa is one of the ambassadors of
Freemuse
, an independent international organization that advocates freedom of expression for musicians and composers worldwide. Freemuse is an organization that documents infringements on freedom of expression and assists musicians and composers who are censored in their countries. The organization conducts seminars and workshops annually around the globe where musicians voice their concerns and offer solutions to problems. In 2010, Mahsa Vahdat was granted the Freemuse Award.
Mahsa will likely discuss the lack of women's rights in Iran.
Here Mahsa discusses this subject excerpted from an
on-line interview
:
"Since 1979, female solo voice has been eliminated from music stages in public. Female artists can perform solo just for female audience, or they can sing in choir. I am very sorry about this and I regard it as cultural genocide. This limitation has some religious pretext but I believe now it's rather political. It is based on the fear of the influence of music and women in our society at the moment."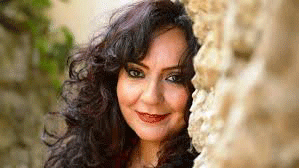 Mahsa Vahdat Tangents Party Logistics:


Date: Sunday, June 25
(Location will be disclosed when contribution received. It is near Glen Park BART.)
Party includes a sumptuous Tangential pot luck and one music set. The performance will be for at least one hour.
Potluck 5:30 - 7p
Performance 7:30-8:30ish
Contribution: *$30

*
greater contributions gratefully accepted and split between Mahsa Vahdat and Tangents Radio
Make check out to "Tangents Radio".

Contributions are non-refundable and not tax deductible..


Please include e-mail and phone number in the memo. (Please do not forget to do this.)
Mail to:
Tangents Radio
301 Gambier St.
San Francisco CA 94134
House concert is not wheelchair accessible.
Pay Pa
l users can send contribution via tangentsradio@gmail.com. The payment must be
posted to "Friends + Family"
, otherwise it will be refunded. Do not use "Goods and Services".
If your contribution is received after party is sold out, it will be refunded unless you specify as a contribution.
EM tangentsradio@gmail.com if you have questions.
If you have questions email or call: tangentsradio(at)gmail.com / 415 584-4367.
Thanks and hope to see ya!
Dore