Elaine Schwimmer, Berkeley "a finely crafted miracle"


It is truly amazing how Dore put together this trip. The production of 12 concerts in a foreign country itself is a remarkable feat, but the entire whirlwind trip was a finely crafted miracle. The daytime tours, ( Athens, Thessaloniki and others), were rich in history, and anecdotes, presented by gracious, articulate Greeks. Touring the countryside, beaches, little stone villages and small cities, we saw way more than could be imagined. The concerts were a stunning representation of different Greek musical styles, from a raucous bar room jam to a soulful singer on guitar in a mosque.
If you want to get to know the landscape and music of Greece on a fast paced excursion, there is no better way to go.
1.The place was on fire: I thought the roof would rise, the music was so intense.
Reaching crescendos over and over Daulute Trio played on and on. Quiet and
exquisite, then blowing blasts, delivering a thick molten ravishing soundscape.
Lute, sheepskin bagpipes and daoulaki blew you into happy land, taking you to
places you had never been before.
The concert hall, a renovated industrial space at the end of a dark road, was the
perfect venue, opening out onto an ocean veranda. We walked right up to the ocean,
its rhythm lapping along with the night. The air was warm and still, stars punctured
the black sky. The large room was filled with people, drinks, now up out of their
seats rising with layers of exquisite music.
2. The road was carved into the side of a steep mountain. The Mercedes Benz bus
rambled on the twisted path with the turquoise sea churning below.
Photo to right looks down on gorgeous Mylopatomos Beach in Pelion.
The driver went slow and easy, I felt quite safe even thought these we're the most
dramatic coastal roads I could imagine. We got to a place where the bus could no
longer go, got out to walk down a rocky road in the forest. We came upon an
ancient stone building, a stunning creation in its simplicity and design. It had been
rehabilitated and was someones home.
Some enterprising folks had gone into the mountain village established hundreds
of years ago and renovated it to create a living village just as it was before.
Surrounded by pines, the foliage was lush and full of red coleus leaves.
We came upon a larger building of wood and stone, a restaurant where we were
treated to a fabulous Greek meal.
3. Wine was served outside the church. Inside, when the concert began, a large
screen showed video from the past, a visual accompaniment to the songs.
A churning ocean, a ship on the sea, these were motion pictures of the actual
passage of Greeks to the promised land, America.
The mournful laments of Dimitris Mystakidis took you to another time, the beauty
of which was almost unbearable. With a guitar accompanying, he played in a
magnificent manner sort of mimicking a greek instrument, sang his heart out as
we listened and watched.
The Yeni Camii mosque (entrance pictured to right) was full of Greeks who had
come to see this balladeer singing of the past. The longing and respect were
tangible as he serenaded us, one song after the other, a heartbreakingly
beautiful performance.
Nora Privatera, Oakland

My overall impression is that this was the most amazing, fantastic vacation we've
ever been on. So much music, so many incredible sights, great people to meet
and get to know, and so much about a country I knew little about before I left,
despite having listened and danced to Greek music for many years.
photo to right: outdoor dinner in Chania with Hilary quenching her thirst at the head of the table
.
I know everyone thought that Haig Yazdjian's concert was the A++ of all our
concerts, and it was wonderful, transformational, even. Haig did seem to be in a
trance, and brought all of us along to visit another realm of existence.
However, I also really loved the Daulute Trio: The astonishing percussive
quality of the laouto, and the amazing versatility of the musician on the wind
instruments, just blew me away. The concert venue, in the old tanning factory
on the water in Crete, was kind of magical and mysterious too, adding to the
overall impression of an extraordinary evening.
For pure joy, I would vote for the concert in Thessaloniki, in the cafe, with
Kyriakos Gouventas on violin. I loved watching him; he seemed to be having
the time of his life.
A runner up for joy and a sense of community for me was the concert of Epirus music
in the village of Ado Pedina. They may not have been top musicians, but for creating
a sense of community they excelled.
Then there was our private concert with Ross Daly and Kelly Thoma and the talk afterwards. This event was in a class by itself. I've been hearing about Ross Daly for
at least 20 years, and to hear him and especially listen to him speak about his musical
journey and his philosophy of teaching was a rare treat. Thank you especially for that; without your personal connection to him we never would have had this experience.
I enjoyed most of the other concerts as well, but I don't want this to run on forever,
so I'll just leave it at that.
It's hard to top Meteora for a spectacular setting. Astonishing to think that those 14th Century monks built the monasteries on the tops of such inaccessible mountains.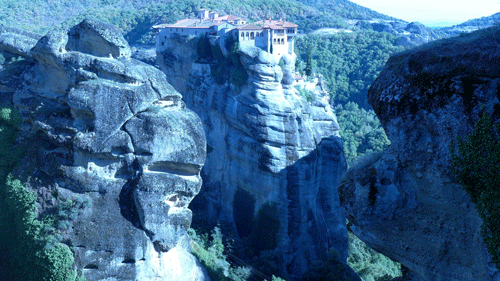 But for sheer charm, Portaria wins my heart. The hotel Kritsa, with its giant 17th Century tree, was utterly charming,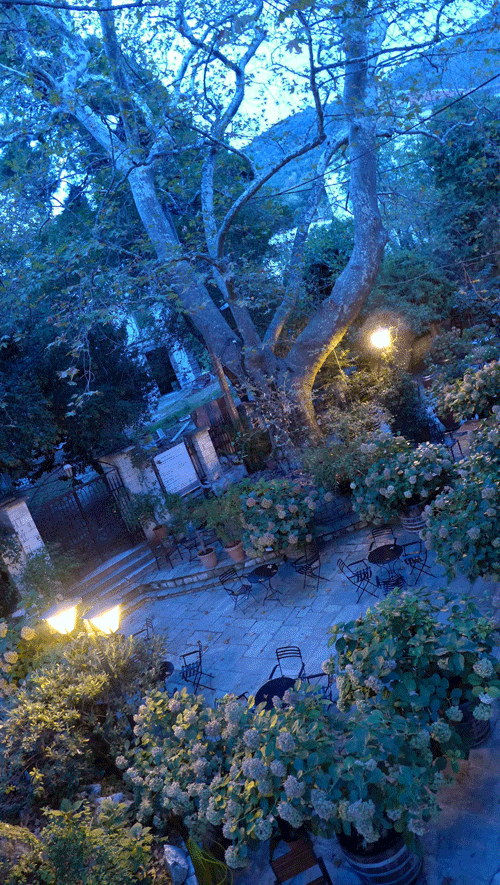 and the village itself and the one next to it, Makrinitsa, were so beautiful that I could not stop taking pictures of them.

Then of course, how could I forget Milia. I was deeply impressed with the owner's commitment to operating organically, and his philosophy. It's so obvious that this is a labor of love and deep commitment for him.
And Chania, with its lovely little alleyways, shops and restaurants.
I was also really impressed with Thessaloniki, for a very different reason; it reminded me of Paris, with its beautiful buildings, and its cafes and nightlife that seemed to never stop.
I wish we had spent more time in Ioannina, which is quite a lovely little city.
All of our tour guides were articulate, intelligent, and very well informed, but Tassos in Thessaloniki was the best. After his Rebetiko tour I felt like I had just attended a graduate course in Rebetiko, and he was equally interesting and informed about Thessaloniki's troubled history. He was so prepared, too, with his laptop, pictures, videos, etc. Mind you the others were all very good too, but Tassos really was outstanding.
Dore did an amazing job putting this tour together, and we are very happy that we decided
to do it. It was worth every penny, and I'm so glad our money was used to subsidize all these wonderful musicians, who can't make a decent living in their own country. I also really value getting to know so many Greeks, and hearing their perspective on their country; so much better than just being an ordinary tourist just taking in the sights.
Here in the US, we often hear that Greece is a failed state, and there is some truth to that. But Greece was so beautiful, and clean, and its people so gracious, that I thought the US compares very poorly with it. Think of BART compared to the Athens Metro. Or the quality of food and the cleanliness of the restaurants and rest stops.
We in the US should not be so arrogant. We could learn a thing or two from other cultures.
Pete Simack, Fairfield


Tangents Greece tour, 2017, was my first trip with Dore and Tangents listeners. I can only say that the trip far exceeded my expectations with respect to the organization, schedule of tours, artist and music lineup, and ease of traveling with the group size. The group of us got along very well overall and we freely mixed throughout the length of the trip. The group was incredibly intelligent and knowledgeable and we shared a sharply honed sense of humor almost from the start. Beyond the obvious common interest in music we gradually discovered other interests that we shared and it was fun getting to know everyone.
Dore seemingly took care of most every detail and his previous experiences with other music tours and his research in Greece proved to be a true blessing for us first timers. All arrangements within the trip dates were seen to by Dore personally, hotels were very convenient and comfortable with local neighborhood charm readily available. Flights and bus transportation were all prearranged and relatively hassle free.
The various area/city tours had been pre-selected by group vote and all of our guides were highly personable and knowledgeable. Tours were also optional so if you didn't want to go out on a tour on a particular day you had the freedom to do so. Free time was also well scheduled so that you could get personal things accomplished or simply lounge and rest a bit.
Meals were simply wonderful! Hotel breakfast buffets covered things for the mornings and there was at least one group meal (lunch or dinner) each day that was covered within the trip costs. Dore avoided the tourist trap spots and strived to arrange meals at authentic restaurants where locals ate. The choices were excellent and we ate our fill of exceptional Greek food. It is hard to pick a personal favorite but I loved our restaurant owner Heidi in Metsovo and her food was scrumptious.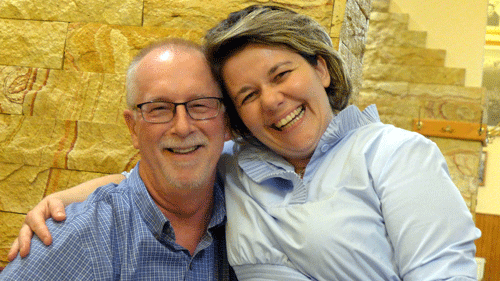 The music...we experienced world class musicianship and artistry virtually every night, covering a wide swath of Greek rooted music. Since I lean more toward jazz based music, my favorites were Alekos Vretos, Balarom Trio, and the highlight show of Haig Yazdjian. But every show was deeply spiritual, beautiful, and inspiring in its own style. I even allowed myself to dance with the locals one night in Thessaloniki...it is a night to remember always. And almost every show we attended ended with an opportunity to speak with the artists and extend our appreciation to them.
Lastly, the people of Greece were simply lovely hosts. They were very open to our group questions and made every effort to see that we were comfortable. Their gracious hospitality and friendly manner made it easy to relax and fully enjoy the experience.
Vaso Dimitriou, Athens (Greek musician)


Dore with multi-instrumentailist Vaso Dimitriou and oudist Dimitris Mahlis of Wahid in Athens


Dore is the soul behind "Tangents".
He is a very artistic person with great ideas and I'm really proud of what he does!!
He is proven to keep all of his dreams and promises no matter the obstacles !!!
Carolyn Wright, San Francisco
My gamble to be a guinea pig on Dore's first Greek tour paid off in spades. Likewise, it was a gamble for me to join such a fast paced, group trip, not my preferred mode of travel. But again the gamble so paid off.

I'd never been to Greece so I regarded this as an introductory tour, Greece 101. And what an itinerary Dore put together for us! It included a variety of cities, towns, villages, all around the country, with beautiful and sometimes very dramatic landscapes. We had some very good walking tours with erudite and fun guides in Athens and Thessaloniki. These were one of the (many) highlights of the trip because they provide history and culture, and gave us background and context and some appreciation for what we were seeing. Several places would definitely be worth a return trip, I'd go back to explore more of Thessaloniki alone! We had the opportunity to go hiking in the beautiful mountains of the Pelion peninsula and to swim at some beautiful beaches in Crete and Pelion. A super introduction to the country.

The trip turned out to be fabulous in quiet a few ways but of course the focus was music and we experienced incredible Greek music, a lot of it. The variety was such an eye-opener, and the extraordinarily high quality of the musicians was a marvelous treat. My favorites were (in order of appearance) the Roma band Banda Jovanica at a cool little restaurant in Athens (we made a return visit for dinner later in the trip, it was SO good and the owners were so fun). The Kyriakos Gouventas trio at a club/taverna in Thessaloniki where we drank and danced until the wee hours; the trio was having a good time, too, the violinist especially was beaming at the joy at the music and good time they were creating. And, finally, an almost transcendentally beautiful show by the oudist Haig Yazdijian and his ensemble back in Athens, we were all carried away with their amazing improv and soulfulness, the sheer beauty of it.

Have I raved about the food and wine (and ouzo!) yet? We enjoyed so many delicious group feasts at all kinds of casual, lovely restaurants, every day. I lost track of my fave dishes, there were so many. Really a treat Though not the pounds I put on!

I didn't know anyone in the group before the trip but they turned out to be really friendly and fun, interesting, simpatico. I had a wonderful time hanging out with them as we traveled around together and shared many good times.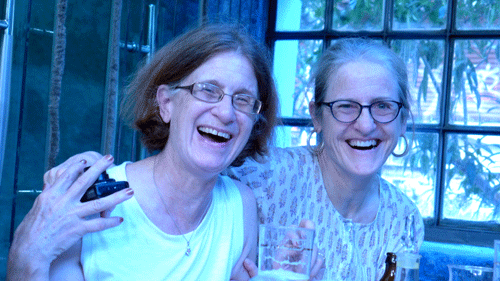 Carol on the left and Carolyn Wright on the right
I"m running out of adjectives to rave with so I'll stop now.

I expect the 2018 trip will be even better as Dore tweaks this inaugural run, though it's hard to imagine that he could make many improvements. Highly highly recommended, make plans to join him.
Edward Neely, San Francisco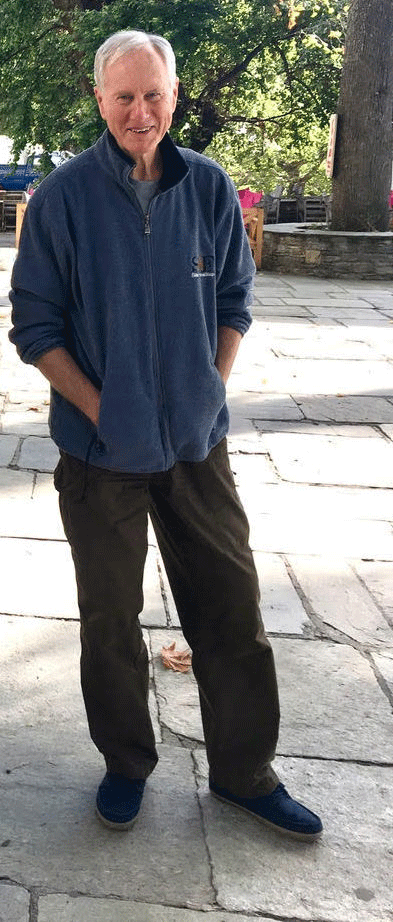 Edward in Makrinitsa (photo by Carolyn Wright)


I loved this trip. Dore has expertly planned a unique opportunity, the Tangents
Greece Music Tour, for those who love traditional roots music. An opportunity to not only see the sights, learn the history, meet the folks, and savor the food in Greece
but to enjoy Greek musical culture through a series of exceptional live concerts.

Music is the heart of this tour. The quiet mountain retreats and sunny Mediterranean
beaches of Crete ; the emerald waters of the Aegean Sea along the coast of the
Pelion Penninsula; the mountain vistas of Zagoria ; the ancient sites, the plazas,
the markets, and tavernas of Athens and Thessaloniki are all landscape and setting
for the songs, rhythms, and instruments the Greeks love to play. The musicians
are wonderful. The sounds of the oud, the lyra, the qanon , the Cretan lute, the
bouzouki ... are fascinating.

Music was the heart , but the ears of this trip belonged to a delightful group of interesting, enthusiastic, often hilarious, world music fans. Thank you :
Avram, Brenda, Carol, Bob, Carolyn, Elaine, Elise, Hillary, Maryann, Nora, Mike,
Pete, Phil, and Ron for sharing the travel, the food, the fun, the photos, the
music. And thank you, Dore, for making Tangents Greece Music Tour so easy
to enjoy.

Mike Banister, Oakland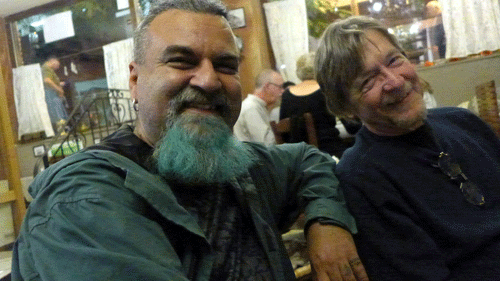 Loukas Metaxas of Balarom Trio (left) and Mike at a musician's hangout cafe in Athens
The Greek Tangents Tour was probably the highlight of my year. My wife and I have
traveled a lot together and this trip was the most informative, entertaining and mind-blowing of the year. I loved getting to know the traditional Greek musical styles and instruments. And the musicians were phenomenal and unassuming. The cities, towns and villages we visited opened my mind to a part of the world I had never visited. I was surprised to see how clean Athens, Thessaloniki and the other towns were. The island of Crete and the town of Chania were magical. Looking forward to another Tangents tour!

Hilary Winslow, Bolinas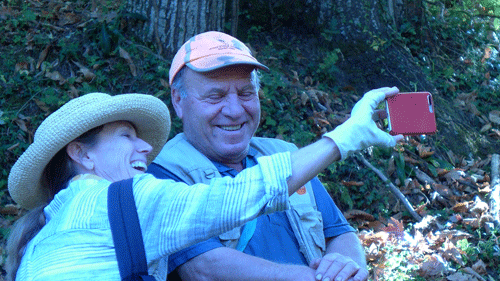 Hilary and a shepherd after a hike in Portaria, Pelion
I had a fabulous time on Dore's maiden Greek adventure. This is a trip like no other, with such a variety of musical encounters, pristine beaches, fabulous food, sights and sounds in this amazing, puzzling country that your head will spin—in a great way. Highly highly recommend this trip!
Ron Scudder Livermore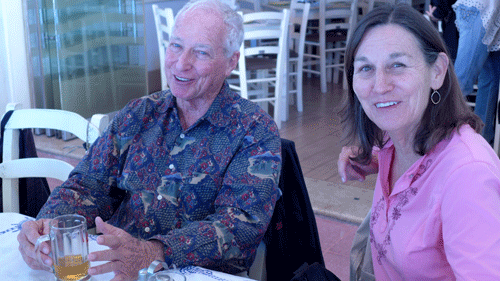 Ron and Brenda


Wow, Dore hit this tour out of the ball park! Every concert has been different and amazing, with a great variety of musical styles and venues. It's exceeded all of my expectations, and that's tough, considering the standard that Dore set on the Turkey tours.
Avram Mednick, San Francisco
Top 10 Highlights of 2017 Tangents Greece Tour
10. Smelly little fish with every meal
09. The Pindus Mountains, not unlike Yosemite
08. The raki
07. The Yankees
06. The Acropolis Museum in Athens
05. Nighttime half-marathon in Thessaloniki
04. Meteora, monasteries like Tiger's Nest in Bhutan
03. The walking tours
02. Crete, everything about it
01. The music (Alekos Vretos Quintet my favorite)