Anne Beytin Torkington, Oakland


I think the Tangents Turkey Tour is unique. It's unique because we have Dore, and Dore, being the person he is, has made many wonderful and special friends in Turkey. So we, the tour guests, are treated like royalty wherever we go. We get very special meals in beautiful environs, we get the best seats in the house at clubs and concert venues, we get the warmest welcomes in the world from the artists and the restauranteurs and other merchants, and we get the most beautiful hotel rooms. We also get lots and lots of exercise, walking everywhere, which I adore. I didn't gain any weight even though I ate twice as much as usual because I worked it off on all of our walks. A bonus is the great people I met in our tour group. I give Dore credit for that too -- he just attracts the best!
Anne exiting a cave at Monk's Valley in Cappadocia in photo on right.
Joshua Raoul Brody, musician, Bernal Heights, SF

This is an extraordinary way to get exposed to a wide range of Turkish music, and an extraordinary way to get intimate entrée into Turkey and its culture rather than more traditional tourist-y tours. Dore's knowledge of the music and the many connections he's made over the years with Turkish musicians and concert presenters are unparalleled, and resulted in an exciting and eclectic buffet of folk, traditional, jazz, and singer-songwriter music. And there was still time left over for guided sight-seeing and unchaperoned exploration.
Joshua (see right side photo) took it upon himself to record all the concerts.
Thanks Joshua!

Linda Stonier, Berkeley


I took a chance on this tour and it turned out to be the trip of a lifetime! I was treated to a totally new culture, great beauty in the land and the people, amazing live music in intimate settings, delicious healthy food, and plenty of brisk walking every day, all in the company of 12 wonderful new friends. What more could you ask for on any tour?
Margaret Levitt, San Francisco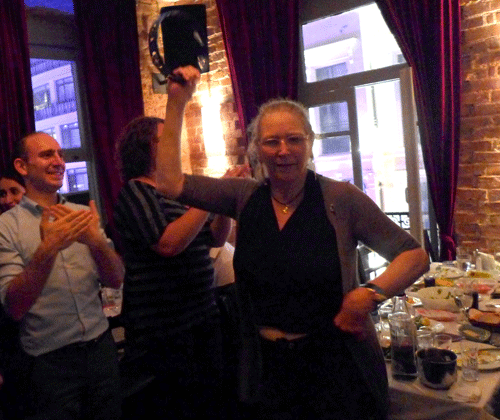 Margaret below dancing at a Roma/Gypsy club;
to the right relaxing by the Aegean sea
It was 16 marvelous nights! Thanks to Dore for all the blood, sweat and tears he has to go through so that we can see so many wonderful aspects of Turkey.
It's difficult to say what I liked best about the Tangents Turkey Tour, but, because I joined the tour after several weeks of independently traveling to a number of cities in Europe, I really enjoyed the comfort I felt knowing the someone else (and someone with good taste and experience) had vetted everyplace and had planned interesting excursions and activities and that he would manage any potential problems.There were no major problems to manage, thanks to the information Dore gave us and to his planning.
I liked the way we went on alternative, interesting side streets and it was apparent that Dore was trying to show us what had attracted him to Turkey and to share his love and concern for the country . In many big and small ways, Dore worked out what might best please a group like us. And he was right on.
I was also glad to be given choices, and given the information to make my own decisions about what I might want to do if I opted out of one of the planned excursions or meals.
The make up of the group members and their good spirits were a real bonus. Again, after traveling on my own, this was a very comfortable place to be. In summary, I felt cared for and in good hands.
Subsequent Margaret email, 12/1/15:
I am on a tour of India (Overseas Adventure Travel Company). I have been thinking of you and thinking of your tour and realizing what a treat it was. This company is polished and we do a lot of moving around and seeing wonderful places, but the rapport isn't there like it was on your tour.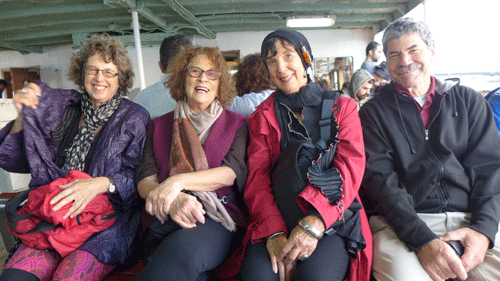 Lisa Esherick, Berkeley (3rd from left in above photo)

Ever since seeing images of Cappadoccia in the 1960s, I'd wanted to get to Turkey. So when I read about Dore's Turkey Music Tour plans I jumped at the chance to join it. Dore's familiarity with Turkey, deep love and knowledge of the music and his numerous ties and friendships there, opened many doors to us along the way. This was a highly energetic tour with a great group of people. Dore was our big cat who kept all his kittens together, whether heading out on a Bosphorus tour by ferry, to some magnificent historic site, a music venue, a chosen restaurant or an early morning flight to a distant region, he made sure we were all together and O.K. He led us with wisdom, abundant energy and a great sense of humor. It was a terrific trip. Thanks, Dore.
Lisa and the boys of Kadikoy at an impromptu dance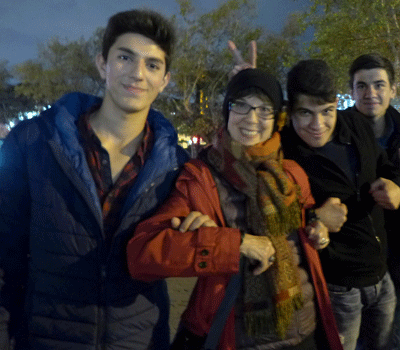 Helena & Aaron Zorndorf, San Francisco
We found Dore through KALW and a friend who had been on the tour twice before. We were not sure how we would handle Turkish music every night, but those concerns were quickly dispelled.The music venues were small and intimate. There were a variety of different musical styles, some you could dance to, some instrumental masters of both traditional music and modern jazz, and some with heartrending beautiful singing. Dore has a lot of experience with local music and culture. Dore chose artists that were easy to connect with it and appreciate.
Our fellow travelers were inquisitive and friendly. I shared many laughs and great conversations during our walks through the streets of Istanbul, and some late night roof top drinks overlooking the Blue Mosque lit up inthe background. Dore's choices of accommodations, restaurants, local guides and music were right on. Turkey is a fascinating country with amazing history, beauty and great significance in world politics. We learned to appreciate the country so much more with the help of local guides, whom Dore had come to know and trust over the years. Thank you for the experience of a lifetime. teşekkür ederim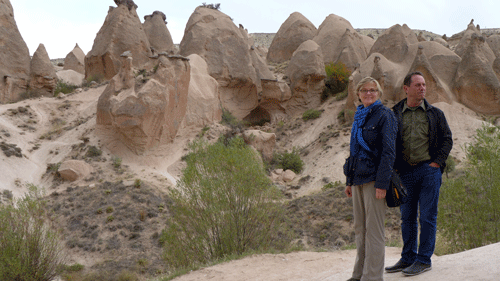 Helena and Aaron in Cappadocia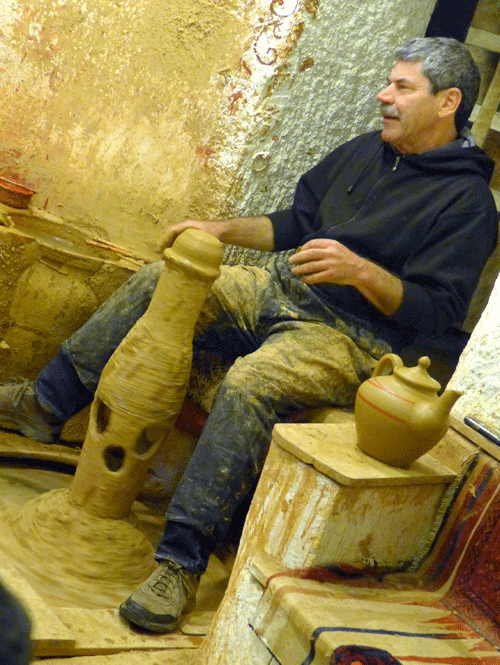 Jim working the kick wheel in Avanos, Turkey's pottery capital


My trip to Turkey with Dore Stein was a unique experience for me, because of Dore himself. The trip is personal for Dore because he genuinely cares about and sees to the comfort and enjoyment of each person in the group.
Because so much of the tour included Dore's musician and restaurateur friends, we were treated to intimate venues and VIP treatment. The hotels were first class, the restaurants had great food and character and the music was excellent. It felt as if the musicians were playing for us.
Not the least of the experience was the bonding of many of us as we shared the joy of the music and our mutual interest experiencing different cultures.
I believe a great and valuable time was had by all!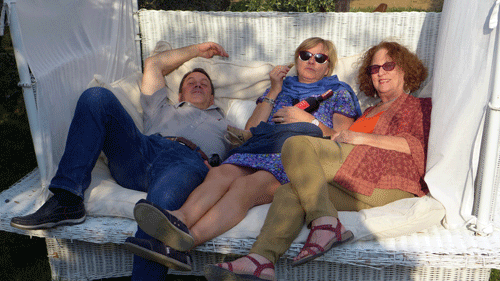 Judy on the right with Aaron and Helena
Rita Roti San Francisco


For several years, I wanted to go on the Tangents Turkey Tour with Dore. And finally, in 2014, I had the opportunity to do so! Yes, there were 11 concerts in 16 days, and travel and sights and learning. But there is so much more to the tour: there is connection with people who I would have never had the opportunity to connect with if I were on my own. Dore knows so many people and places and special things just seem to happen along the way. And those 11 concerts? Wonderful! Some incredible combinations of artists playing together in small venues where we were luck to sit right up front. Wait, did I mention the food? Wonderful too!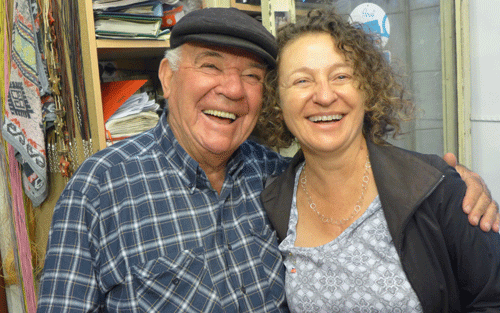 Rita with Mustafapaşa shop owner Cavit