Gaza Corner Archive: 2012-2013
Heard live Sat. nights 11p on Tangents, 91.7 fm, SF, kalw.org
Click headlines for full stories
(Archive does not view properly in Google Chrome)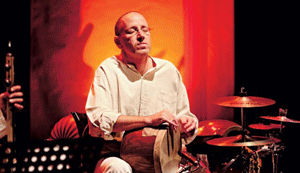 Istanbul based Israeli percussionist Yinon Muallem
note - Yinon was studio guest during Gaza Corner on 5/31/14;
posted two articles from 2012 featuring Yinon
photo courtesy of Emil Salman
Turkey and Israel keep bonds alive through music
Israeli and Turkish musicians have become "volunteer ambassadors" to create and maintain bonds between the two countries
(Menekse Tokyay for SES Turkiye, 2/21/12)
excerpt:
Related Article:
Musical Diplomacy between Turkey and Israel
The music of Yinon Muallem, who is now the cultural
attache
in Israel's Istanbul consulate, embodies
all that can be good
about Israeli-Turkish relations
(by Bernny Ziffer, Haaretz, 8/31/12)
excerpt: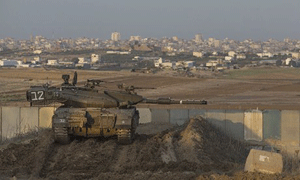 An Israeli tank patrols the Gaza border.
British parliamentarians are calling for an end to the blockade that started five years ago.
Photograph: Uriel Sinai/Getty Images
Time to end Israel's Gaza blockade
(The Guardian UK, 12/27/13)

UK MPs say time to end Israel's Gaza blockade and collective punishment of Palestinians
The MP's letter:
----------------------------------------------------------------------------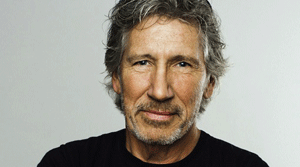 An Interview with Roger Waters
by Frank Barat, Counterpunch 12/6/13
Is AIPAC losing its clout?
Two recent defeats bode well for emerging Jewish activist groups
such as Bay Area's
Jewish Voice for Peace (JVP)
(12/14/13)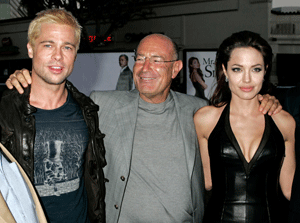 Arnon Milchan, center, with Brad Pitt and Angelina Jolie in 2005. Photo by Reuters
Hollywood tycoon Arnon Milchan opens up about past
as Israeli arms dealer andd secret agent
(Allison Kaplan Sommer, Haaretz, 11/26/13)
note: free registration required to access some stories
related Haaretz stories fr 2011-2013:
Did Hollywood bigwigs help Israel buy arms in the 1970's and '80's?
Longtime Hollywod film producer Arnon Milchan says they did
(Haaretz, 11/21/13)
Israeli spy turned Hollywood producer rejects attempts to turn his story into a film
(Haaretz and Yossi Melman, 4/2/12)
Will your book on Arnon Milchan hurt Israeli security? An interview with author Meir Doron (Yossi Melman, Haaretz 7/20/11)
'Hollywood prodcuer was an Israeli nuclear agent'
According to a new biography, Arnon Milchan,
close friend of Israeli prime ministers and Hollywood stars,
was recruited by Shimon Peres to purchase equipment for Israel's nuclear program.
(Yossi Melman, Harretz 7/18/11
)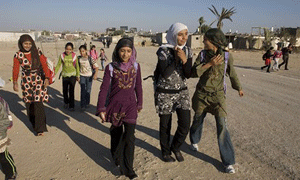 Bedouin children walk to school in the Negev desert.
Photograph: Karen Robinson
Brits protest over Israel plan to remove 70,000 Palestinian Bedouins
More than 50 public figures including Julie Christie and Brian Eno
put names to letter opposing expulsion from historic land
(Harriet Sherwood, Guardian UK, 11/29/13)
But Adalah, a human rights and legal centre for Arabs in Israel, says: "The real purpose of the legislation [is] the complete and final severance of the Bedouin's historical ties to their land."
The "unrecognised" villages in the Negev, whose populations range from a few hundred to 2,000, lack basic services such as running water, electricity, landline telephones, roads, high schools and health clinics. Some consist of a few shacks and animal pens made from corrugated iron; others include concrete houses and mosques built without necessary but unobtainable permission.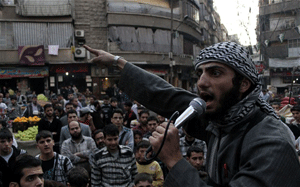 A member of the Islamic State of Iraq and the Levant (ISIL) speaks into a microphone
urging people to join their fight against the regime, in the northern Syrian city of Aleppo.
Photo: AFP/GETTY
Al-Qaeda's battle for hearts and minds in Syria
Al-Qaeda spreads its gospel in market places and mosques in Syria
as it steps up bid to turn country into new caliphate
(Ruth Sherlock, Kilis, Turkey; Telegraph U.K. 11/20/13)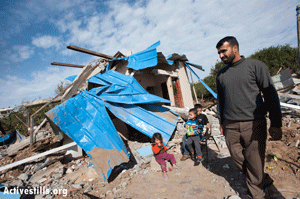 Citrus farmer Yusuf Jilal Arafat stands in front of his home, in which his 5-year-old daughter Runan was killed when 10 Israeli missiles struck this mostly agricultural area in the Al Zeitoun neighborhood of Gaza City, December 2, 2012. Arafat's wife, four months pregnant, and 8-year-old son Jilal (black shirt) were found alive in the rubble. His children now suffer from frequent panic attacks at night. Arafat does not know why his home was targeted, as no rockets were launched from the area.
(photo by: Ryan Rodrick Beiler/Activestills.org)



A year after 'Pillar of Defense' the nightmare continues
A year after 165 Palestinians and 6 israelis were killed, political leaders have yet to conduct independent, impartial investigations into allegations of human rights violations.
(Yonatan Gher, +972blog, 11/16/13)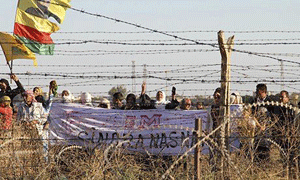 Syrian Kurds with a PKK flag protest against the construction of a wall along the border.
Photograph: Mehmet Engin/AFP/Getty Images
Turkey's new border wall angers Kurds on both sides of Syrian divide
Locals shocked at building of 'unnecessary and divisive' new border wall,
which they claim risks Kurdish peace talks
(Constanze Letsch in Nusaybin, on the Turkey-Syria border; Guardian UK, 11/8/13)
In Syria, Palestinian Refugees Made Refugees Again
(Matt Surrusco, The Daily Beast, 1018/13)
Human Rights Watch
New Report on Syria
"You Can Still See Their Blood:
Executions, Indiscriminate Shootings, and Hostage Taking by Opposition Forces in Latakia Countryside"
(Click to view report, 10/10/13)
Click to View Human Rights Watch Video
Some of the Report's Findings:
CIA ramping up covert training program for Syrian rebels
(Greg Miller, Washington Post 10/02/13)
the below excerpt combines the above story with an opinion piece by
Tyler Durden
Israeli Defense Forces (IDF) bar Israelis
from joining Palestinian protest against settler concert
(Mairav Zonszein, 972 mag.com, 9/26/13)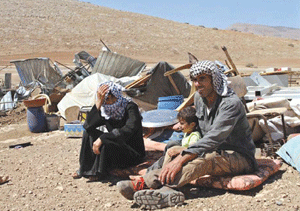 Palestinian civilians sit near the debris of their homes in Makhoul area in the northern Jordan Vally,
where Israeli forces destroyed several houses rendering 48 Palestinians, including 17 children, homeless
Palestinian Centre for Human Rights (PCHR)
Weekly Report
on Israeli Human Rights Violations
in the Occupied PalestinianTerritory (oPT)
(September 12-18, 2013)
The Palestinian Centre for Human Rights (PCHR)
is a Non-Governmental Organisation (NGO) based in Gaza City. The Centre is dedicated to protecting human rights, promoting the rule of law and upholding democratic principles in the Occupied Palestinian Territory (OPT). It holds Special Consultative Status with the Economic and Social Council (ECOSOC) of the United Nations. PCHR is the recipient of various awards including the 1996 French Republic Award on Human Rights and the 2009 Human Rights Prize of Andalucia. The Centre was established in 1995 by a group of Palestinian lawyers and human rights activists.
Report Excerpt: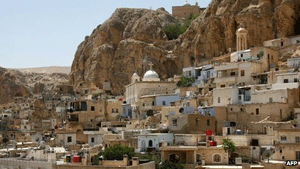 Maaloula is one of the earliestcentres of Christianity in the world
Al-Qaida-Linked Syrian Rebels
Attack Ancient Christian Village of
Maaloula
Where Aramaic,
the Original Language of Jesus is Still Spoken
Click on the following links
for Sept 4-6 coverage of story:
BBC
Huffington Post (AP)
Telegraph.co.uk
NPR (AP)
Combined excerpt:
In Syria, it's a case of all or nothing
(Patrick Cockburn, Independent UK, 9/5/13)
World View: History teaches us that limited Western intervention
can only inflame this complex war and will do nothing to bring peace
Opinion:
(excerpt)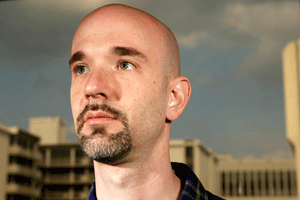 Matthew Schrier described his abduction in Aleppo on Dec. 31 by fighters with the Nusra Front,
which
is aligned with Al Qaeda.
American Tells of Odyssey as Prisoner of Nusra Front,
Syrian Rebel Group
(C.J. Chivers, N.Y. Times 8/22/13)
(excerpt)
Haaretz Editorial
(8/16/13)
Attorney General Without Justice
Weinstein is promoting 'jurisprudence without justice' that violates the rights of Palestinians in the service of Jewish settlements.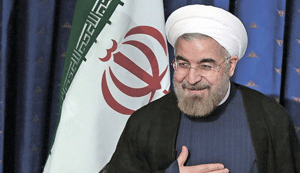 Iranian president Hassan Rohani at his first official press conference, this week.
Sweet talk and moderate declarations. Photo by AFP
Netanyahu concerned as ever about Iran,
but world powers will not allow strike in coming year
The atmosphere created by Rohani's election leaves the international community with zero tolerance for an Israeli attack - at least until talks between Tehran and major world powers end.
(Amos Harel, Haaretz, 8/10/13)
related articles:
Will Iran Get a Bomb-or Be Bombed itself-This Year?
(Graham Allison, the Atlantic, 8/01/13)
Top 10 Reasons Americans should Dismiss
Israel's Netanyahu on Attacking Iran
(Juan Cole, juancole.com 7/23/13)
excerpt combines Haaretz and Juan Cole articles: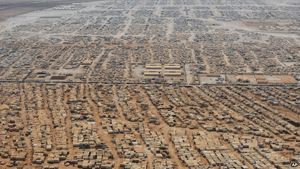 An aerial view shows as far as the eye can see the Zaatari refugee camp where
115,000 -160,000 (estimates vary) Syrians call Zaatari home.
Now it is Jordan's fourth largest city. And nobody wants to live there.
(Mandel Ngan/AFP/Getty Images)
The Syrians who prefer war-torn home to Zaatari refugee camp
(click for video)
(Guardian UK, 7/25/13)
Life in Zaatari
(Jordan's vast camp for Syrian refugees)
(Lyse Doucet, BBC 7/29/13)
Enormity of Syria's Refugee Crisis Seen at Zaatari Refugee Camp
(Eline Gordts, Huffington Post, 7/18/13)
combined excerpt:
Living on the frontline: Ebtahaj Najib, 58, looks over three of her grandchildren.
They share their three-room apartment with eight relatives.
Photograph: Tanya Habjouqa
The New Jerusalem
(Harriet Sherwood, Guradian UK 7/27/13)
In the Holy City, Jews are buying up Arab properties, aiming to 'reclaim' its ancient Muslim Quarter. Harriet Sherwood meets one family determined not to be move

d
excerpt:
European Union:
Future agreements with Israel won't apply to territories
(Barak Ravid, Haaretz, 7/16/13)
related articles including more by Barak Ravid:
EU takes tougher stance on Israeli settlements
(Harriet Sherwood, Guardian UK, 7/16/13)
Unprecedented strain on Israel-EU ties;
Netanyahu responds to EU:
"Israel will not tolerate edicts on our borders."
(Barak Ravid, Haaretz, 7/16/13)
New guidelines stipulate Israel must acknowledge East Jerusalem, West Bank and Golan as occupied territories before any future agreements signed with member states.
EU will take further measures against Israeli settlements
if Kerry's peace bid fails
(Barak Ravid, Haaretz, 7/16/13)
Measures could include labeling settlement goods and requiring travel visas for settlers.
combined excerpt: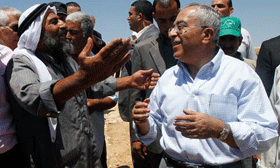 Former Palestinian prime minister Salam Fayyad, right, speaks to Mahmoud Hamamdeh, the chief of Mufaqara village, which faces multiple demolition orders in al-Mufaqara.
Photograph: Mohamad Torokman/Reuters
Israeli authors fight to stop eviction
of Palestinian villagers from army zone
Israeli novelist David Grossman:
"For the past 20 years, Israel has been actively displacing the inhabitants of the South Hebron Hills villages. These villages have always practiced a unique lifestyle...They live in constant fear, helplessly facing a ruthess power that does everything to displace them from the home they have inhabitated for centuries."
(Harriet Sherwood, Guardian UK, 6/29/13)
excerpt:
The Egyptian State Unravels
(Mara Rekin, Foreign Affairs.com, 6/27/13)
excerpt:
US to Leave 700 Troops in Jordan
i
n Sign of Deepening Involvement in Syrian Crisis
(Jonathan S Landay and Hannah Allam, Truth-Out.org, McClatchy Newspapers, 6/22/13)
excerpt:
The Turkish Media's Darkest Hour
How Erdogan Got the Protest Coverage he Wanted
(Piotr Zalewski, Foreighn Affairs, 6/14/13)
excerpt: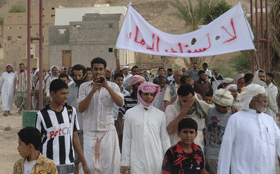 Protests have continued in the village of Khashamir against the US attacks
[Faisal Ahmed bin Ali Jaber/Al Jazeera]
Anger at US drone war continues in Yemen
Psychiological impact mounts in Khashamir where drones killed a family last year;
Residents still feel "terrorized"
(Rebecca Murray, Al Jazeera 6/7/13)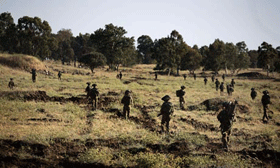 Israeli soldiers take part in exercises in the Golan Heights near the border with Syria.
Photo: Menahem Kahana/AFP/Getty Imagesurtesy Al Jazeera
Golan Heights villages brace for war
as tensions rise between Syria and Israel
(Phoebe Greenwood in Majdal Shams/Golan Heights, Guardian UK, 5/31/13)
excerpt: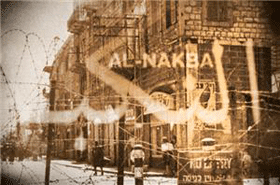 Al-Nakba
Series on the Palestinian 'catastrophe' of 1948 that led to dispossession and conflict that still endures
(Al Jazeera English 5/22/13)
related video:
A message by Dr. Mona el Farra from Gaza
Episode 1:
Episode 2:
Episode 3:
Episode 4:
Detained Testimonies from Palestinian children imprisoned by Israel
(+972 Blog, text and photos by Samar Hazboun)

Related story:

Israel arrests 14 year old U.S. citizen
Mohammad Khaleq is one of more than 8,000 Palestinian children
held by Israel since the year 2000
(Linah Alsaafin, Al Jazeera, 4/15/13)


First (top) story excerpt: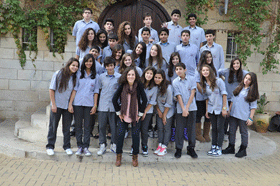 Nour Joudah (center) with her class at Friends School
Nour Joudah returns to U.S.,
but continues to fight Israel's arbitrary denial of entry
(Alex Kane, Mondoweiss.net, 4/19/13)

excerpt:

See Glen Greenwald column:
"Barbara Boxer, AIPAC seek to codify Israel's right to discriminate against Americans."
Iraq's pain has only intensified since 2003
"The country of my birth, already so damaged, is now crippled by fear of all-out civil war.
But in the people there is hope."
(Opinion piece by Sami Ranmadani, Guardian UK, 3/13/13)


related article:

Iraq fears return of sectarian war,
this time wth added political dimension
Shias and Sunnis increase attacks amid concern Syria war
could raise violence to levels of deadliest period in nations's history
(Peter Beaumont, Guardian UK 3/13/13)


note: The Guardian UK had an excellent series called "Iraq war: 10 years on"
that included anniversary interviews, stories and analysis.


Key Hamas leader accepts 1967 borders, embraces pragmatism
(Analysis by Dahlia Scheindlin, 972mag.com*, 4/6/13)




* +972 is a blog-based web magazine that is jointly owned by a group of journalists, bloggers and photographers whose goal is to provide fresh, original, on-the-ground reporting and analysis of events in Israel and Palestine. Our collective is committed to human rights and freedom of information, and we oppose the occupation.




The name of the site is derived from the telephone area code that is shared by Israel and Palestine.



excerpt:
(combines +972 analysis and parts of interview)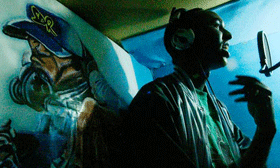 A rehearsal for the Somali group Waayaha Cusub, while in exile in Kenya.
Now the group is to headline at the Mogadishu music festival.
Photograph: Tony Karumba/AFP/Getty Images


Somali rapper leads rebirth of music n Mogadishu
after years of oppression
(Jessica Hatcher, Guardian UK, 3/28/31)

excerpt:



lyrics excerpt:



Shocked Shocked





Who is Behind this trail of destruction?




Al-Shabab is





They galvanize people on the street for their wicked cause





They profess to be Muslim yet wield machetes





The 'Mavi Marmara' Photo: Reuters/Emrah Dalkaya


"Sorry" says Israel's Netanuyahu,
opening way for diplomatic relations with Turkey
(Sheera Frenkel, Hannah Allam and Roy Gutman, McClathcy Newspapers, 3/22/13)
Netanyahu apologizes to Turkey over Gaza flotilla
(Herb Keinon, Jerusalem Post, 3/22/13)


combined excerpt:


Rachel Corrie


Saturday, March 16, the Rachel Corrie Foundation Marks the
10th Anniversary of Rachel's Stand in Gaza with a Call to Action


related article: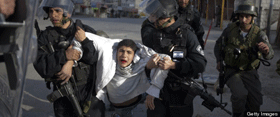 A Palestinian youth is arrested by Israeli border policemen following clashes with Israeli forces at the Shuafat refugee camp
in Jerusalem on February 9, 2010 during the second day of an arrest operation.
(Menahem Kahana/AFP/Getty Images)


Israeli Abuse of Palestinian Children In Prison 'Systematic'
and 'Institutionalilzed' Says UN Report
(Huffington Post, Agence France Presse by Hazel Ward, 3/6/13)
Israel Mistreats Palestinian Children In Custody, UNICEF Reports
The United Nations Children Fund estimated that 700 Palestinian children aged 12-17,
most of them boys , are arrested, interrogated and detained
by the Israeli military, police
and security agents every year in the West Bank
(Haaretz, Reuters 3/6/13)


combined excerpt: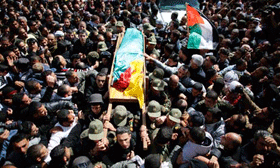 Palestinians carry the body of Arafat Jaradat during his funeral in the West Bank village of Saeer.
Photograph: Ammar Awad/Reuters


Israel arrests Palestinian human rights activists
(by Jillian Kestler-D'amours, The Electronic Intifada, 3/01/13)


related article:


Palestinian Arafat Jaradat gets hero's funeral
after death in Israeli custody
Palestinian officials say autopsy results show that Arafat was tortured during Israeli interrogation and was bruised over his body with two broken ribs (Guardain UK, 2/25/13)


Electronic Intifada article excerpt: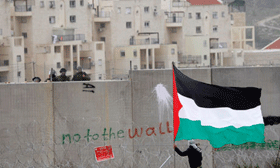 A still from Emad Burnat's Oscar-nominated documentary 5 Broken Cameras.
Photograph: Majdi Mohammed/AP
The Israel-Palestine drama will play out at the Oscars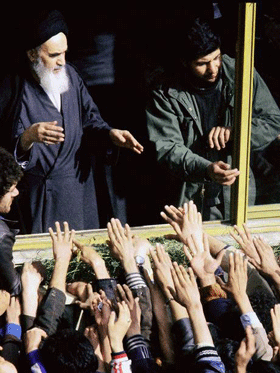 The Islamic Revolution's founder Ayatollah Ruhollah Khomeini (L) greeted in 1979 in Tehran by
his supporters during his return to Iran after 15 years in exile in Iraq and France
AFP/Getty Images


Iran's Srebenica:
How Ayatollah Khomeini sanctioned the deaths
of 20,000 'enemies' of the state
A tribunal at The Hague publishes a report illustrating the regime's crimes against humanity (by Peter Popham, Independent UK 2/7/13)
Excerpt: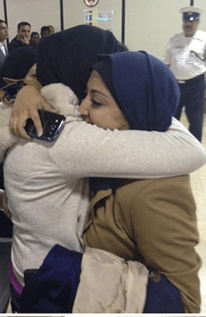 Maryam and Zainab Abdulhadi embrace inside Bahrain's airport upon Marjam's return from exile


Bahraini activist's triumphant return
Amid a groundswell of support for the Al-Khawaja family to win the Nobel Prize,
daughter Maryam ends her exile
(by Lawrence Weschler, Salon.com 1/11/13)


Related article:

A worthy, necessary Nobel honoring the Arab spring
(by Lawrence Weschler, 1/11/13)


Excerpt:
(first person of Lawrence Weschler)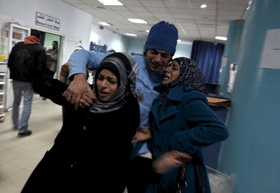 Relatives of Samir Awad mourn after the 17-year-old
died of gunshot wounds on 14 January.
(Issam Rimawi / APA images)


How the media let Israel get away with murder
(Charlotte Silver, Opinion/Editorial, The Electronic Intifada 1/17/13)


Excerpt:

Will 2013 be the year American Jews secede from Israel?
If AmericanJews think what is being done in their name is self-destructive and oppressive,
it stands to reason they would want it to stop
(Bradley Burston Blog, Haaretz 1/01/13)

note: above link requires registration

Excerpt: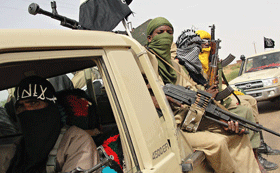 Fighters of the hard-line Salafi group Ansar Dine in August. The group has controlled Timbuktu
and much of northern Mali since a coup d'état and a successful revolt against the central authority in March.
Romaric Hien/Agence France-Presse — Getty Images


France launches air strikes on Mali rebels; Al-Qaeda linked fighters pushed back from key town
(Al Jazeera 1/12/13
)
France Battling Islamists in Mali
(NY Times 1/11/13)
related article:


Islamist's Harsh Justice is on the Rise in North Mali
(NY Times 12/18/12)


combined excerpt and background: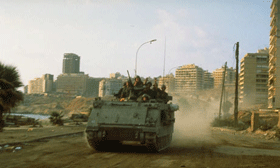 Israeli tank in Beirut in 1982.
Photograph: David Rubinger/Time & Life Pictures/Getty Image


Arabs are 'losing faith' in America: lessons from Lebanon 1982
Newly declassified secret British government documents shed light on the elusive search for an Israeli-Palestinian peace settlement (Ian Black, Guardin UK, 1/04/13)
excerpt:
back to Guardian UK excerpt: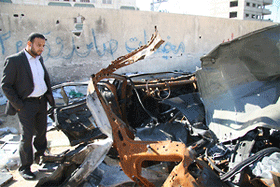 The deputy manager of al-Aqsa TV, Mohamed Abou Oun,
inspects the car that two al-Aqsa cameraman were riding in
when an Israeli missile struck them in Gaza City on November 20, 2012.
The Israeli military said that Mahmoud al-Kumi, 29, and Hussam Salama, 30,
were "Hamas operatives" but gave no information to support the claim.
© 2012 Fred Abrahams/Human Rights Watch
Human Rights Watch Report
Unlawful Israeli Attacks on Palestinian Media;
"Anyone responsible for deliberately or recklessly committing a serious violation
of the laws of war should be prosecuted for war crimes."
(Human Rights Watch, 12/20/12)
Related:
<