2018 Gaza Corner Archive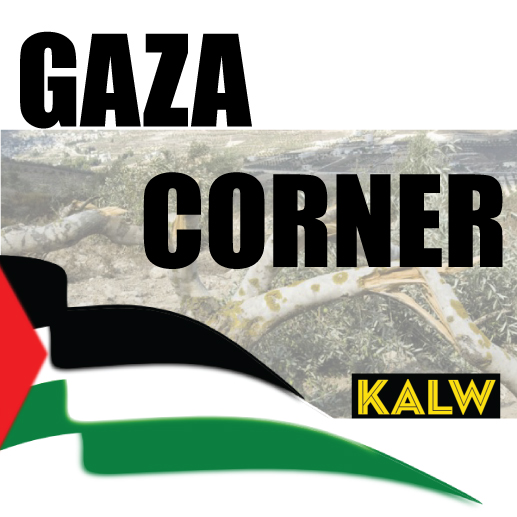 Heard live Saturday nights 11pm on Tangents 91.7 FM KALW San Francisco
This weekly feature includes news and opinion from the Middle East (and beyond) often ignored by the mainstream media followed by music from the relevant country or culture.
Gaza Corner was originally conceived to focus attention on relieving the humanitarian crisis in Gaza which has been under a severe blockade imposed by Israel since 2007. Gaza Corner has evolved to include the Middle East, Magreb, Kurdistan and Turkey.
February 17, 2018
Gender crimes against women are a problem that exist within all societies. In a two part series on femicide, Gaza Corner focuses on the deepening tragedy of murdered women in Turkey. In Part 2 next week we'll examine domestic violence and female killings in Lebanon, Israel and Palestine.
February 10, 2018
Tonight's Gaza Corner focuses on the breaking news that Israel conducted its largest attack inside Syria since the start of the Syrian war. Israel claims it was a response to an Iranian drone (apparently unarmed) violating Israeli airspace. Israel's air assault directly targeted Iranian military assets in Syria for the first time. This aggression could set the stage for yet a new wider front in the Syrian war.
A big question is how will Russia react? Russia has the most influence over Syria's Assad and Iran. Russia can also deter Israel due to its missile defense system deployed on Syrian soil. The US has the power to rein in Israel. But it's questionable whether a Trump administration obssessed with Iran would act to bring Israel to its senses.
February 3, 2018
Since the beginning of the occupation in 1967, approximately 10,000 Palestinian women have been arrested and detained by Israeli forces.
Addameer, the Prisoner Support and Human Rights Association, has documented the brutality of the arrest process as well as the unlawful and debilitating detention conditions for female Palestinians prisoners. This encompasses Israeli interrogation, detention and prison centers, and even hospitals while in custody. The abuse, ill-treatment, and torture, including sexual assault of Palestinian women and girls, is a practice used by the Israeli government to repress Palestinian women.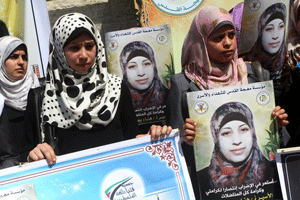 (uncredited)
Palestinian women haunted by abuse in Israeli jails
While some Palestinian women have spoken up about being raped in Israeli custody, for many it is a difficult topic to address because of social taboos.

Sahar Francis, director of Addameer, a Palestinian prisoners' rights group emphasised that these practices are not lone acts committed by individual members of the Israeli armed forces.

"It's (sexual torture) not something that's done by an individual soldier who decided to humiliate or mistreat [the prisoners]," she said. "It's part of the process, part of the policy, in order to affect the entire society and put it under pressure... because they are aware that [gender] is a sensitive subject in Palestinian society."
Addameer Report, Dec. 2017: Israeli Imprisonment of Palestinian Women and Girls
Over the last 45 years, an estimated 10,000 Palestinian women have been arrested and/or detained under Israeli military orders.

Among the set of needs specific to women prisoners, issues pertaining to health care require urgent attention, a right strategically denied by Israeli Prison Service (IPS).

The majority of Palestinian women prisoners are subjected to some form of psychological torture and ill-treatment throughout the process of their arrest and detention, including various forms of sexual violence.

These techniques of torture and ill-treatment are used...as tools to humiliate Palestinian women and coerce them into giving confessions.

Pregnant detainees who are transferred to hospitals to give birth are moved only under strict security supervision, with the woman's hands and feet typically shackled with metal chains. The women are then chained to their beds until they enter the delivery room and are shackled once again only minutes after delivery.
Addameer Report, March 2016: Occupied Lives: Imprisonment of Palestinian Women and Girls
Marah Bakeer, a 16-year-old girl from Jerusalem, was arrested on 10 October 2015, after she was shot 10 times in her left arm by an Israeli soldier. Marah was not carrying anything, and when the soldier asked her to raise her hands, she did so, but...a police officer pushed her to the ground...causing her to hit her head with the ground. The police officer started searching her body with his hands, took her headscarf off and took her clothes off until he reached the underwear.

She was later transferred in an unprofessional manner by an ambulance to Hadassah Ein Karem, while she was left naked despite her requests to cover her body. Later, an investigator from the police attended the hospital, while she was naked and her body bleeding, and asked her if she tried to stab a soldier, which she denied. Later she was forced to enter the operating room without being informed of the nature of the operation or her medical status. She was then put in a room, with her hand and leg tied to the bed all the time, with the presence of two male guards, who cursed her and her mother repeatedly. One of the guards told her to die, and another guard took a 'selfie' with her against her will.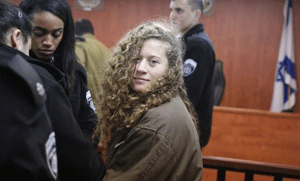 Ahed Tamimi in custody (credit: Getty images)
Amnesty International Israel: release Ahed Tamimil
16-year-old Palestinian activist Ahed Tamimi could face up to ten years in prison over an altercation with Israeli soldiers in the Occupied Palestinian Territories (OPT).

The incident involving Ahed took place on the same day that her 15-year-old cousin, Mohammad, was hit in the head at close range by a rubber bullet fired by an Israeli soldier. His family told us that he needed surgery to remove part of his skull.

Nothing the teen has done can justify her continued detention. The Israeli authorities must acknowledge this and release her immediately.

There are currently around 350 Palestinian children detained in Israel, according to local human rights organisations.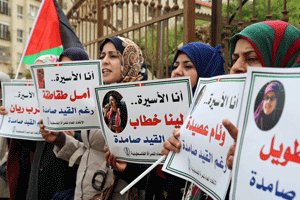 Over 50 years of occupation, more than 10,000 Palestinian women have been detained by Israeli forces. (credit: Ahmad Al-Bazz ActiveStills)
Dozens of Palestinian women and girls remain in Israel's prisons
"Testimonies by Palestinian women and girls highlight the brutality of the arrest process as well as conditions inside Israeli interrogation, detention and prison centers and even hospitals while in custody," prisoners' rights group Addameer and antiwar group CodePink said in a statement released this week detailing Israel's violations of the rights of female detainees.

Israeli interrogators use the same torture methods on women as they do on men, including sleep deprivation, denial of food and water, basic hygiene and access to toilets. They are also subjected to sexual harassment and painful stress positions.
Documenting the Plight of Palestinian Female Prisoners
Former prisoner Aisha Awdat cannot forget the night of March 10, 1969, when she was raped with a stick by her Israeli investigator...She has documented that night and her experiences in prison in her book, titled "Dreams of Freedom," which was published in 2004. Awdat is now the head of the association "Women Imprisoned for Freedom," dubbed "Masira" and is keen on documenting the experiences of female prisoners.
January 27, 2018
January 26, 2018 is the 3 year anniversary of the Syrian Kurds transformative victory over the Islamic State In Kobane. Fast forward to January 20, 2018 and the fate of Syria's Kurds has taken an uncertain turn with the January 20 Turkish invasion of Afrin. It had been a magnet for internally displaced Syrians because it was a relative safe haven. That has changed with Turkey's indiscriminate air bombarments that has resulted in many civilians dead and wounded. Turkey's Erdogan boasts its goal is to ethnically cleanse Afrin of Kurds. Erdogan says Turkey's next target is Manbij where American troops are stationed. The Pentagon recently announced intentions to remain in northern Syria. The US could draw the proverbial red line in Manbij setting up a conceivable conflict between NATO allies.
Meanwhile a more stealth invasion is occurring in southwestern Syria where Israel is expanding a buffer zone well beyond the illegally occupied Golan Heights, signaling a deeper and more long term investment in the Syrian war.
January 20, 2018
audio not yet available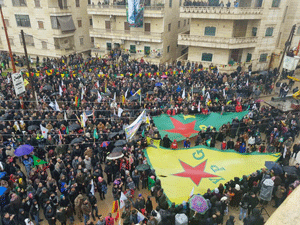 Syrian Kurds rally on Thursday against the Turkish threats in Afrin [AP]
Just when it appeared the war in Syria may be winding down, Turkey unilaterally opened a new front earlier today by attacking the northwestern Syrian Kurdish enclave Afrin with airstrikes and heavy artillery shelling. Afrin had been viewed as a safe haven. Its population doubled to an estimated 800,000 civilians due to internally displaced Syrians fleeing for safety.
Russia controls the airspace over Afrin region. Turkey cannot attack from the sky without green light from Russia. The Turkish invasion ironially named "Operation Olive Branch" could have devastating consequences for peace prospects in Syria.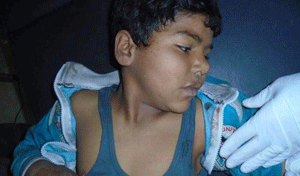 Cahida Dêrsim @dersi4m ; Jan 20, 2018 ; Turkish jets are also bombing refugees: 9-year-old Yahya Hemad who had fled with his family from Idlib to Afrin has been killed in today's Turkish bombing (ANHA) #AfrinUnderAttack
Dore note: For up-to-date coverage on the unfolding bombardment of Afrin do not rely on conventional media sources. Avoid Turkish, Kurdish, Russian and US mainstream outlets. Twitter is the best source for quickest news. One person I discovered today is Cahida Dêrsim: @dersi4m. The hash tags #AfrinUnderAttack and #DefendAfrin are sympathetic to Afrin and worth following.
Turkey's Bluster on Afrin: More Than Meets the Eye
Turkey must solve...complicated dynamics before it invades, or risk unintended escalation and a much larger conflict than it is now planning for.

Turkey risks getting bogged down in an insurgent conflict it cannot win against a U.S.-backed group, while also assuming responsibility for administering and financing territory in a war-torn state for the foreseeable future.
Experts examine Erdogan's continuing escalation in Syria
Several Kurdish politicians warn that Turkish military involvement in Afrin would wreak havoc in Turkey. For example, Ayhan Bilgen, spokesperson for pro-Kurdish Peoples' Democratic Party (HDP) tweeted, "If there is a [Turkish] operation against Afrin without an attack from Afrin on Turkey, [it] would lead [Turkey] to civil war if it is successful. If it is unsuccessful, [it would] create grounds for a coup."
US military: No 'support' for Kurdish YPG in Afrin
Pentagon spokesman Major Adrian Rankine-Galloway stated "We don't consider them as part of our 'Defeat ISIS' operations, which is what we are doing there and we do not support them. We are not involved with them at all."

US-led coalition spokesman Colonel Ryan Dillon said "We are not operating in Afrin."
January 13, 2018
audio not yet available
There is a virtual media blackout on the world's worst man made humaitarian disater, the US sponsored Saudi war on Yemen.
January 6, 2018
audio not yet available
Israel is engaging in yet another war. It's a war that silences words. It's an all out war on Palestinian freedom of expression and Israel's coalition partners include social media giants Facebook and Twitter.