2016 Gaza Corner Archive
Heard live Saturday nights 11pm on Tangents 91.7 FM KALW San Francisco
related stories:
BAN KI-MOON: GLOBAL CUPCAKE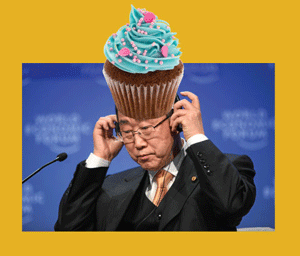 NO MORE!
Secretary-General Ban Ki Moon in his last year of office apparently got tired of being a global cupcake. He did not mince words when it comes to Israel and Palestine during an address to the Security Council on Jan 26.
speech excerpt:
"Palestinian frustration is growing under the weight of a half century of occupation and the paralysis of the peace process.

Some have taken me to task for pointing out this indisputable truth.

Yet, as oppressed peoples have demonstrated throughout the ages, it is human nature to react to occupation, which often serves as a potent incubator of hate and extremism.

Continued settlement activities are an affront to the Palestinian people and to the international community."
The words of out going UN Sec General Ban Ki Moon who in his 10th year in office finally had the chutzpah to tell it like it is.
related stories:
In Syrian fog of war Israel has provided military and medical support to Jabhat al-Nusra (aka al-Nusra Front), the Syrian branch of al Qaeda, while the U.S. and Russia target al-Nusra with airstrikes.
combined excerpt from below articles

Syrian opposition activists in southern Syria say Israel has played a vital role in Jabhat al-Nusra gains near the Golan. There is clearly a growing divergence in U.S. and Israeli approaches over who represents the biggest danger—and who should be seen, if not as an ally, at least as a lesser evil in the regional crisis sparked by the dual implosion of Syria and Iraq.

In nearly two and a half years, around 2,000 Syrians have been admitted to Israeli hospitals. Only about 1/3 of the Syrians treated in Israel are women and children. The rest are combatants. An Israeli military official acknowledged most of the rebels on the other side of the fence belong to al-Nusra.
related stories:
background stories:
January 2, 2016 [audio stream]
(includes moving field recording of Kurdish boy singing)
Endless Afghanistan War
Update:
Older News
2008-2011 Note: This feature was renamed Gaza Corner from 'News of the Day' on 5/31/10 after the Gaza Freedom Flotilla was attacked by Israel resulting in 9 deaths. The focus changed to Palestine/Israel and the Middle East.