Gaza Corner Archive: Jan 2014-Present

(links to 2010-2013 entries at bottom of page)
Heard live Sat. nights 11p on Tangents, 91.7 fm, SF, kalw.org
Click headlines for full stories
(Archive does not view properly n Google Chrome)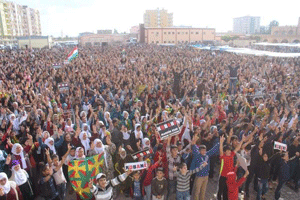 Kurds as far as the eye can see demonstrating solidarity
with the people of Kobane in Kiziltepe, Turkey near the Syrian border.
International Call Leads to Global Day of Action
For Kobane And For Humanity
(peaceinkurdistan.com, 10/28/14)
press statement excerpt:
Nov 1 is an urgent call for action appealing to people all over the world to show solidarity with Kobane, which is still under siege by the Islamic State (IS) and facing the possibility of a genocide.
Prominent signatories include Professor Noam Chomsky and Archbishop Desmond Tutu, who have both been long-time supporters of the Kurdish struggle for self-determination, as well as Nobel Peace Prize Laureates like Adolfo Erez Esquivel, and Jose Ramos-Horta, former President of East Timor and Nora Cortinas, cofounder of the Mothers of Plaza de Mayo in Argentina and Palestinian singer Reem Kelani.
For nearly two months, the city of Kobane has been facing an onslaught from IS. The call for action states that the US-led coalition "has not fulfilled their real international legal obligations. Some of the countries in the coalition, especially Turkey, are among financial and military supporters of IS in Iraq and Syria."
Dore note:
In response to the call to action there were rallies in some 30 countries spanning 5 continents.
Watch
Reem Kelani's video message
of solidarity with Kobane posted 10/20/14..
Latest info via Twitter:
#GlobalDay4Kobane
and
#Kobane
Related articles:
First Kurdish reinforcements
cross Turkish border to Kobane
Peshmerga enters Kobane in powerful symbol
for long-oppressed stateless Kurds
(Richard Spencer and Magdy Samaan, Telegraph UK, 10/30/14)
Reinforcements Enter Besieged Town via Turkey, Raising Hopes
(Anne Barnardoct, NYT, 10/29/14)
IS controls half of Kobane, says FSA rebel leader
(Richard Spencer, Telegraph UK, 10/29/14)
combined excerpt:
A Town Shouldn't Fight the Islamic State Alone;
Turkey's Obstruction of Kobane's Battle Against IS
(Meysa Abido, NYT Op-Ed, 10/28/14)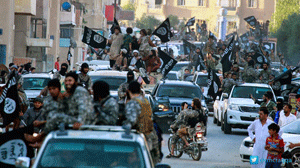 Islamic State (IS) in Raqqa, Syria
Image by AP/Raqqa Media Center
Raqqa is Being Slaughtered Silently, And These Guys Are Risking Their Lives To Document It
(Alice Speri, news .vice.com, 9/25/14)
excerpt:
Gaza Corner Audio Broadcast Dore Stein 9/20/14
(click for broadcast)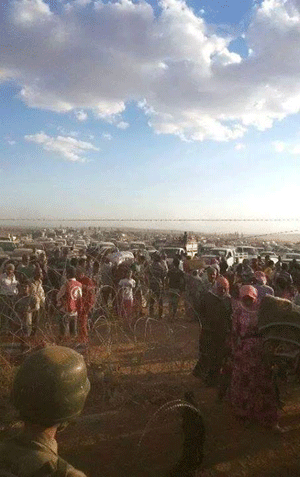 Turkey closed the border crossing w/ Kobane again as thousands of Kurds flee IS encirclement of city. Obama remains silent and does nothing to prevent possible mass slaughter;
photo credit unknown - taken 9/20/14
Letter to President Barack Obama - Provide Syrian Kurds with humanitarian and military support
(Dr. Amir Sharifi - Ekurd.net, 9/20/14)
related stories:
Obama abandons Syrian Kurds to slaughter
(Opinion, Michael Rubin, AEIdeas.org, 9/19/14)
AEIdeas is a blog from the American Enterprise Institute
'
The world cares nothing'
Syrian city under IS siege
(Opinion, Patrick Cockburn, The Independent UK, 9/18/14)
IS seizes 21 Kurdish villages in northern Syria,
close in on Kobane
(Agence France-Presses/Reuters, 9/18/14)
Massacre warnings
signal
now is the time to attack ISIL
(Opinion, David Phillips, CNBC.com, 9/18/14)
On Kurds and terror lists
(Opinion, Michael Rubin, AEIdeas.org, 9/19/14)
President Obama transcript of address to the nation concerining the Islamic State (IS)
(9/10/14)
Israel jailed influential Palestinian writer
"to remove him from society"
(Patrick O. Strickland, The Electronic Intifada/al Bireh 9/12/14)
related article:
Number of Palestinians held in
administrative detention doubles
(Maannews.net, 8/13/14)
Gaza Corner Audio Broadcast
Dore Stein 8/31/14
(click for audio)
Turkish Kurds help their Iraqi brothers
to resist Islamic State (IS) advance
Female Guerillas are leading the PKK's fight against IS
in a rare display of unity with Peshmerga
(Hermione Gee, Independetn UK, 9/7/14)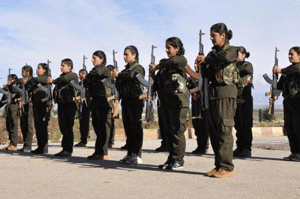 Kurdish female fighters of the Kurdish People's Protection Units (YPJ) at a military training camp. [Reuters]
War on Gaza:
Looking Back and Forward
(editorial by Dore Stein, updated 8/31/14)
Jewish Holocaust survivors and descendants of survivors and victims from around the world
call for justice in Gaza
40 Jewish survivors of the Nazi Holocaust and 287 descendants and relatives of survivors and victims from 26 countries signed a letter condemning Israel's actions in Gaza.
You can see a full listing of signers
here
.
Dutch nonagenarian returns Righteous Among the Nations medal after six relatives killed in Gaza
(by Amira Haas, Haaretz 8/15/14, requires registration)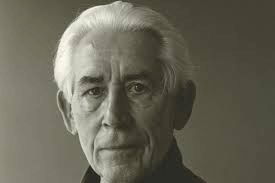 Henk Zanoli, who helped save a Jewish child from deportation to concentration camps, said holding on to the medal would be an 'insult to the family.'
excerpt:
Gaza Corner Audio Broadcast
by Dore Stein 8/16/14
(click for audio)
Eyewitness Blog Entries from Gaza
by Dr. Mona El Farra:
Whole Villages Have Been Wiped Off the Map: My Visit to Khuza'a (8/12/14)
In Gaza, We Have Lost So Many That We Love
(8/5/14)
Watch:
Irish Senator and Former Presidential Candidate David Norris Condemns Gaza Massacre
(click for 8:00 video, 7/31/14)
Irish senator and former presidential candidate
David Norris
made a powerful speech on July 31 condemning Israel's massacre in Gaza and the complcity of American, Irish and other European governments.
Click for official transcript of Senator Norris' speech
Watch:
"If no siege, no tunnels!
If no occupation, no rockets!"
says doctor with long history helping in Gaza, Dr. Mads Gilbert
(submitted by Ali Abunimah, Electronic Intifada, 8/8/14;
Click for video with English subtitles)
Partial transcript follows:
Gaza Corner Audio Broadcast by Dore Stein 8/2/14
(click for audio)
Noteworthy Gaza articles from the last week:
Israel Provoked This War
It's up to President Obama to stop it
(Rabbi Henry Siegman, Politico, 7/22/14)
Rabbi Henry Siegman on Democracy Now:
Siegman on Gaza:
"A Slaughter of Innocents" (7/30/14)
Siegman to Israel:
Stop Killing Palestinians and End the Occupation (7/31/14)
Gaza and the Loss of Civilization
(by Brian Eno, 7/28/14)
Eno excerpt:
(AmenaSaleem, Electronic Intifada, 7/25/14)
Gaza Corner Audio Broadcast by Dore Stein 7/26/14
(click for audio)
note: my apologies to Gabor Mate who in my live comments was mistakenly referrred to as 'she'.
The Beautiful Dream of Israel
has Become a Nightmare
(by Gabor Mate, Vancouver based author, speaker and Holocaust survivor
who wrote this opinion piece in the Toronto Star, 7/22/14)
excerpt: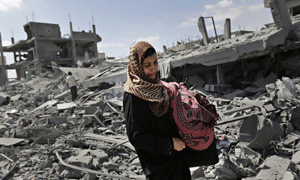 A pause in the bombing by Israeli forces -
and the ruins of Gaza are laid bare
(Peter Beaumont, The Observer, Guardian UK, 7/26/14)

excerpt: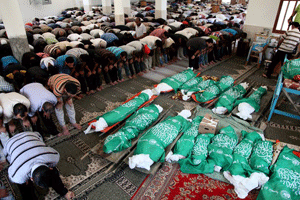 No ceasefire without justice in Gaza
We will not "return to a living death" of siege
and blockade, say Gaza civil society leaders
(published in Electronic Intifada, 7/22/14)
Link for signatures.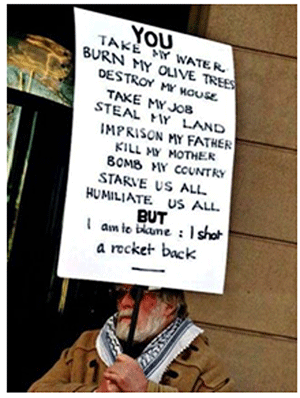 An Old Man and a Young Man in Gaza
(Poem by Heathcote Williams with grateful acknowledgements to Angela Godfrey-Goldstein; courtesy international .it, 7/17/14)
excerpt: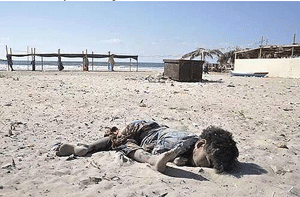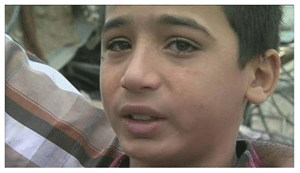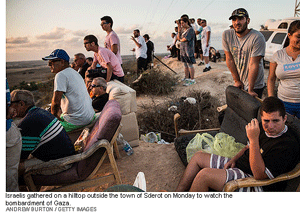 Related articles:
Israel firing experimental weapons
at Gaza's civilians , say doctors
(Rania Khalek, Electronic Intifada, 7/15/14)
Using Gaza as a laboratory
Through Lens, 4 Boys Dead by Gaza Shore
(by Tyler Hicks, NY Times , 7/16/14)
excerpt:
NBC News Pulls Veteran Reporter from Gaza After Witnessing Israeli Attack on Children
(Glen Greenwald, Firstlook.org/The Intercept, 7/17/14)
Update: NBC was shamed into reinstating the reporter a few days later.
Gaza Diary:
Israelis are completely misled about what's going on
"I haven't slept for a second as the explosions have surrounded our home, yet the international community seems to be paying no attention to us."
(by Abeer Ayyoub, Haaretz, 7/11/14)
note: Haaretz articles require registration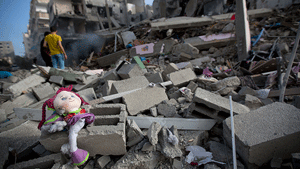 A doll lies on the rubble of a destroyed building following an
Israeli air strike in Gaza City on July 11, 2014. Photo by AFP
excerpt:
Gaza Civilians:
Waiting for our turn in the slaughter house
(by Amira Haas, Haaretz, 7/13/14)
International activists staying at Gaza hospital
the IDF plans to bomb
14 patients, men and women over the age of 60 that cannot be moved remain hospitalized at Gaza's only rehabilitation hospital.
(by Amira Haas, Haaretz/Reuters, 7/12/14)
Former Shin Bet chief Diskin: Delusional Israeli government brought us to this security deterioration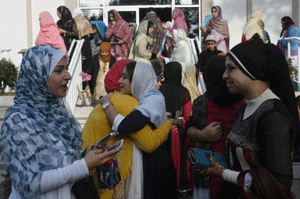 Muslim Americans of different backgrounds and cultures are marking the Holy Month of Ramadan [AP]
Ramadan: A centuries-old American tradition
Many forget that the first Muslims to celebrate
Ramadan in America were African slaves.
(Al Jazeera, Khaled A Beydoun, Opinion, 6/28/14)
Israel seizes political, military opportunity
in teens' disappearance
(Electronic Intifada, Maureen Clare Murphy 6/19/14)
excerpt: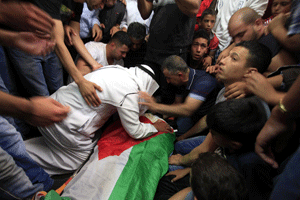 Palestinians mourn over the body of twenty-year-old Ahmad Sabarin
rom Jalazone refugee camp during his funeral, 16 June. Sabarin was k