Gaza Corner Archive: Jan 2014-Present

(links to 2010-2013 entries at bottom of page)
Heard live Sat. nights 11p on Tangents, 91.7 fm, SF, kalw.org
Click headlines for full stories
(Archive does not view properly n Google Chrome)
This weekly feature includes news and opinion from the Middle East (and beyond) often ignored by the mainstream media followed by music from the relevant country or culture.

Gaza Corner was originally conceived to focus attention on relieving the humanitarian crisis in Gaza which has been under a severe blockade imposed by Israel since 2006. Gaza Corner has evolved to include the Middle East, Magreb, Kurdistan and Turkey.


Palestinian armed groups in Gaza committed war crimes during last summer's

Operation Protective Edge

, which left more than 72 Israelis dead. The alleged crimes include rocket fire that resulted in the deaths of six Israeli civilians, including one child according to a
March 26 report by Amnesty International (AI)
. (click above link for access to 68 pg. PDF file)
Operation Protective Edge was an Israeli 51-day invasion into the Gaza Strip that began on July 7, 2014. Israelis say it was an effort to stop rocket fire; Palestinians say the rocket fire was a result of continued ceasefire violations committed by the Israelis.

During the 'war on Gaza' (Dore Stein's phrase), Palestinian armed groups responded by firing thousands of unguided rockets and mortars towards Israel, in many cases directing them towards Israeli civilians and civilian objects, in violation of international law according to the Amnesty International report. These attacks killed six civilians in Israel, wounded others, and damaged civilian property. The conduct of Palestinian armed groups also endangered civilians in the Gaza Strip. In one case, the available evidence according to Amnesty International, indicates that a rocket fired by a Palestinian armed group on 28 July 2014 killed 11 children and two adults in the al-Shati refugee camp, north-west of Gaza City. If the projectile which landed in the al-Shati refugee camp is confirmed to be a Palestinian rocket, it would mean that attacks launched by Palestinian armed groups during the 2014 conflict killed more civilians inside the Gaza Strip than in Israel.

The Amnesty International report does not address the summary killings of Palestinians in the Gaza Strip by Hamas forces for alleged "collaboration" with Israel during the July/August 2014 conflict, which will be the subject of a forthcoming report.

Israeli forces also committed serious violations of international law during the hostilities, but these are not the focus of this report. Some of the Israeli violations, including attacks that constituted war crimes, have been analysed in previous Amnesty International reports, and additional reports will be published in the coming months.


Dore note: It's worth distinguishing that unlike the Palestinians who fight with mostly crude unguided rockets, the Israeli Defense Forces possess advanced weaponry such as precision guided bombs and missiles yet still killed at least 1585 Gazan civilians including over 500 children and 300 women, and more than 11,000 Gazans werw injured according to the Amnesty International report. It seems to me the IDF either intentionally targeted the civilians or had really bad aim which is hard to believe.


Though critical of Hamas and other armed groups in Gaza, the Amnesty International report clears Hamas of using the civilian population of Gaza as human shields, an accusation commonly employed by Israeli officials.

"There is no evidence of any use of Gazans as human shields by Hamas or any other armed group," according to Deborah Hyams, an Amnesty International researcher who contributed to the report.


Dore Note: Apparently Amnesty International did not deal with the question of whether the Israeli Defense Forces used Palestinians as human shields which has been reported and
documented
.


Another criticism of the Hamas government is that they do not build bomb shelters for the residents of Gaza, a fact that many feel contributes greatly to the lack of safe areas. VICE News asked Amnesty International 's Hyams whether the lack of bomb shelters could be attributed to Hamas policies, or the Israeli siege of Gaza.

"It's potentially both," the researcher began. "The siege has made all construction difficult, not just in the area of bomb shelters." Hyams went on to address the common criticism that Hamas builds tunnels instead of shelters: "There's a point to be made there, but we aren't necessarily criticizing the tunnels. If they aren't used to attack civilian targets, they are a legitimate tactic. But if you can build tunnels, why not build shelters?"

Israel's Operation Protection Edge brought an unprecedented level of death, destruction, damage, and injury to the occupied Gaza Strip. More than seven years of Israeli blockade, imposed in June 2007 after Hamas took over Palestinian governmental institutions in the Gaza Strip, had already inflicted a severe cumulative toll on infrastructure, health systems, and all aspects of life in the territory. The 1.8 million Palestinians squeezed into the Strip could not leave, as the borders were sealed and no place inside the Strip was truly safe. There are no bomb shelters or warning systems to help protect civilians in the Gaza Strip. At the height of the hostilities according to the report an estimated 485,000 people had fled to UN schools, government schools, and other public buildings, or were staying with relatives, but several UN schools sheltering displaced civilians came under attack.


Dore note: Assessing blame for attacks on U.N. schools was not part of this report. However,
Human Rights Watch investigated three attacks on Gaza schools
which occurred on July 24 and 30, and August 3, 2014, that killed 45 people, including 17 children.


On the Israeli side, bomb shelters, advanced warning systems, and Israel's Iron Dome missile defence system helped limit civilian casualties in many areas. However, the conflict provided renewed evidence that vulnerable communities in Israel, particularly Bedouin villages in Israel's southern Negev/Naqab region, many of which are not officially recognized by the Israeli government, lacked protection. On both sides, civilians once again bore the brunt of the third full-scale war in less than six years.


Dore note: I'm not sure how Amnesty International draws the conclusion that on both sides civilians bore the brunt of casualties. According to the report, 66/72 Israeli deaths were members of the Israeli Defense Forces. The report sources the UN Office for the Coordination of Humanitarian Affairs (OCHA), confirms over 2,250 people were killed in the Gaza Strip, at least 1,585 of whom were civilians, including 538 children and 306 women. More than 11,000 Palestinians were injured, up to 10% of them permanently. It is obvious the Gazans bore the brunt of the third full-scale war in less than six years, as they always do.


Neither the Israeli nor the Palestinian authorities have conducted credible, independent investigations meeting international standards following previous conflicts, and those responsible for violations have consistently escaped accountability. Since the 2014 conflict, Israel's investigations into the actions of its forces have once again been conducted by the Israeli military itself, and there is no indication that the Palestinian authorities are investigating violations by Palestinian armed groups.

"To date, the situation with domestic investigations on both sides is not looking good. Israeli investigations are conducted by the Israeli military, and there's a huge
conflict of interest
there," Amnesty International researcher Hyams declared, criticizing Israel's method of inquiry. "On the Palestinian side, we just don't know of any investigations into alleged crimes," she concluded.

An independent commission of inquiry established to investigate all violations of international humanitarian and human rights law committed in the Occupied Palestinian Territories (OPT) "in the context of the military operations conducted since 13 June 2014, whether before, during or after" is due to report to the UN Human Rights Council in June 2015. Amnesty International has consistently urged both the Israeli and Palestinian authorities to co-operate with the UN Independent Commission of Inquiry on the 2014 Gaza Conflict. Israel's Ministry of Foreign Affairs announced in November 2014 that Israel would not co-operate with the Commission, and the Israeli authorities have refused to grant its investigators access to Israel or the OPT.
The pattern of impunity for serious violations and crimes, as well as evidence that both sides were committing further crimes during Operation Protective Edge, led Amnesty International to call for an International Criminal Court (ICC) investigation into crimes under international law committed in Israel and the OPT. Palestine's accession to the ICC, which will take effect on 1 April 2015, and its submission of a declaration accepting the Court's jurisdiction from 13 June 2014, are important steps towards justice for victims on both sides.



Dore note:

The Amnesty International report fails to point out that Israel and the United States are not signatories to the Rome Statute of the International Criminal Court and as such have no legal obligations resulting from ICC rulings.

Amnesty International acknowledges In the Methodology portion of the report that it has been unable to send a delegation of researchers, including military experts, to visit the Gaza Strip since the beginning of Operation Protection Edge in July 2014. The Israeli authorities have refused, up to the time of finalizing this report, more than six months after the hostilities ended, to allow Amnesty International and researchers from other international human rights organizations to enter the Gaza Strip through the Erez crossing with Israel, despite the organization's repeated requests since before the beginning of the conflict. The Egyptian authorities have also not granted Amnesty International permission to enter the Gaza Strip through the Rafah crossing with Egypt, again despite the organization's repeated requests.

Amnesty International has consequently had to carry out research in the Gaza Strip remotely, supported by two fieldworkers based in Gaza.

Among several report recommendations, one conclusion states "Israeli authorities should completely lift the blockade on the Gaza Strip, including permitting the unrestricted transfer of construction materials into the Gaza Strip and the transfer of goods from Gaza to Israel and the West Bank, subject only to necessary and proportionate security checks, as an essential step towards addressing the shelter and protection needs
To mark Nowruz, the Persian New Year, which commences on the first day of spring, President Obama released a
video greeting
to the Iranian people. "For decades, our nations have been separated by mistrust and fear," he said. "Now it is early spring. We have a chance—a chance—to make progress that will benefit our countries, and the world, for many years to come." The message was pegged to the tough diplomatic endgame over a deal to prevent Iran from making a nuclear bomb. The deadline for the negotiations is March 30th.
By now, Secretary of State John Kerry has almost certainly spent more time with his Iranian counterpart, Mohammad Javad Zarif, than with any other foreign minister in the world. Unofficial relations between the two countries seem closer today than they have been at any time since the 1979 takeover of the American Embassy in Tehran.
The tenor of the negotiators' personal relationships was evident after news reports announced the death of Sakineh Peivandi. She is the mother of the Iranian President, Hassan Rouhani, and of his brother Hossein Fereydoun, who is one of the negotiators. Kerry and Secretary of Energy Ernest Moniz, a nuclear physicist who recently joined the American negotiating team, paid a condolence call on Fereydoun in Lausanne. In a press statement, Kerry said, "We share in their grief . . . and we keep their family in our thoughts."
An Iranian news agency released several pictures of the visit. In one, Kerry and the President's brother are walking toward each other with open arms, about to embrace.
These images and others, which would have been considered treasonous in Tehran not long ago, were widely shared on social media.
Serious obstacles remain, Obama noted in his video greeting. They are said to primarily concern Iran's nuclear research and development programs and the terms for lifting the punitive international sanctions imposed on Iran over the past decade.
More troubling, the United States and France are split: France insists that Iran disclose all past military research and development activities that could be used to build a warhead to deliver a
weapon and that sanctions be lifted in slower phases.
A potential deal faces even bigger challenges down the road. In his video message, Obama said, "There are people, in both our countries and beyond, who oppose a diplomatic resolution. My message to you—the people of Iran—is that, together, we have to speak up for the future we seek."
Senators Bob Corker, a Republican, and Robert Menendez and Tim Kaine, both Democrats, introduced a bill this month that would require Obama to submit the text to Congress for review. More than three hundred House members sent a letter to the White House this week demanding that any permanent sanctions relief require new legislation.
Senator Lindsey Graham warned Thursday that he would move to suspend U.S. funding of the United Nations if it moved to lift sanctions on Iran before receiving congressional approval. And two Republican House members, Peter Roskam and Lee Zeldin, asked colleagues to co-sign a letter to Obama threatening to cut off funding for the negotiations.
Near the end of his video message, Obama quoted the fourteenth-century Persian poet Hafez on the joys of a new season, and said, "This moment may not come again soon. I believe that our nations have an historic opportunity to resolve this issue peacefully—an opportunity we should not miss." Getting an agreement from the Iranians may prove easier than winning approval in Washington.
Mads Gilbert, an outspoken Norwegian doctor and activist who treated patients at Gaza's al-Shifa hospital during Israel's assault on the Palestinian territory this summer, has been denied access to Gaza "indefinitely" by Israeli authorities.
Gilbert said on Friday that he was turned away from the Erez border crossing when attempting to return to Gaza in October, despite having all the legitimate paper work.
"To my surprise I was denied access by the Israeli military," he said. "When I asked the reason they informed me that it was a security issue."
Gilbert said that when he asked for a fuller explanation, he was told to "leave the premises or the police would be called".
The 67-year-old, who has been involved in solidarity work with Palestinians for decades and volunteered at al-Shifa on and off for 17 years, has been a vocal critic of Israel's military campaigns and its occupation of Palestinian territory.
During the seven-week conflict between Israel and the Hamas movement that left nearly 2200 Palestinians dead, Gilbert frequently spoke to international media, including Al Jazeera and Democracy Now, about the situation at al-Shifa hospital, which was overwhelmed with civilian casualties.
During the recent war, Gilbert accused Israel of committing "state terrorism at a very sophisticated and very high level," and said its army was "using a wide variety of sophisticated modern weapons against a basically naked civilian population.
BBC aired an interview with Gilbert, conducted at al-Shifa hospital. The interviewer began asking him to respond to Israel's claims that it was not targeting civilians, that it was only attacking Hamas militants. Gilbert called the claim "an absolutely stupid statement" and explained that, among the hundreds of patients he had seen at that point, only two had been fighters. The "large majority" were women, children, and men civilians. "These numbers are contradictory to everything Israel says," he reported.
In 2008 and 2009, Gilbert treated Palestinians who had been wounded by Israel's use of experimental and illegal chemical weapons, including white phosphorous, dense inert metal explosives (DIME) munitions, and flechette shells. In
July 2014, in the midst of Israel's most recent attack on Gaza, Gilbert spoke with Electronic Intifada, revealing that he saw indications of renewed use of DIME weapons and flechettes.
Dore note: Flechettes are described as illegal under rules of humanitarian law. The way they're described is they explode in the air above a target, sending out a cone of thousands of tiny steel darts, small darts. DIME (Dense Inert Metal Explosives) weapons are banned under international law and "kill their victims through the amputation of limbs in a way that resembles an automated saw. As for those who are able to survive, they are vulnerable to cancer because [the weapons] contain carcinogenic tungsten," according to a report by Al Jazeera.
Dr. Gilbert told Al Jazeera he was informed that the ban was "infinite without any time limit".
Medical Aid for Palestinians, a UK-registered charity, which has been working in the occupied West Bank and Gaza for over 20 years and supports al-Shifa hospital, called the ban on Gilbert "deeply concerning" and reiterated that, "following the recent conflict, thousands of Palestinians in Gaza require specialised surgical treatment and it is imperative that the right to health is unimpeded".
Dr. Gilbert said he had been invited by the Gaza Health Ministry, which had requested his assistance to research the impact on healthcare of the Israeli bombardment.
Before Operation Protective Edge commenced in early July 2014, Gilbert toured medical and health facilities and individual homes in Gaza, researching for a United Nations Relief and Works Agency for Palestine Refugees in the Near East (UNRWA) report on the dire state of the strip's health sector.
He wrote of "overstretched" health facilities, widespread physical and psychological trauma, "a deep financial crisis," a lack of needed medical supplies, and a "severe energy crisis." He also noted the "devastating results of the blockade imposed by the Government of Israel," with rampant poverty, a 38.5% unemployment rate, food insecurity in at least 57% of households, and inadequate access to clean water. All of these already extreme ills were only exacerbated by the July-August Israeli assault on Gaza, an onslaught that left roughly 2,200 Palestinians dead, including over 1,500 civilians, more than 500 of whom were children.
Gilbert is not the only one Israel has recently prevented from entering Gaza. In August, just after the end of its military assault, Israel refused to allow Amnesty International and Human Rights Watch, the world's leading human rights organizations, from entering the strip, impeding them from conducting war crimes investigations.
Denouncing his entry ban as a limitation of freedom of expression, Gilbert said it appeared the Israeli government "doesn't want the effects of their continuous attacks on the civilian population in Gaza to be known to the world".
"Telling the world about the burdens of the Palestinians in Gaza is considered a security risk," he said, adding that in a larger perspective, the ban was not about him, but about the Gazans' right to international assistance.
He vowed to continue to challenge Israel
and called for political pressure to be exerted to lift the "long overdue" siege of Gaza.
"There is no way we're going to accept that medical and humanitarian assistance to the people in Gaza shall be denied just because the Israeli government has decided so. I will not give up travelling to Gaza as long as they have medical needs," he said.
Israeli Right-wingers have revived highly contentious plans that could effectively silence the Muslim call to prayer, known as the adhan.
In a move that risks stoking already simmering tensions in Jerusalem between Jews and Arabs, a member of Benjamin Netanyahu's coalition Robert Ilatov, a parliamentarian with the ultra-nationalist Yisrael Beiteinu party, is sponsoring the bill with the support of Avigdor Lieberman, the Israeli foreign minister who is also the party's leader.
While the legislation is being justified on the grounds that prayer calls often produce "intolerable noise" that disturbs many citizens' sleep, it is bound to prompt accusations of religious intolerance and prejudice against Israel's Muslim minority.
"Hundreds of thousands of citizens in Israel, in the Galilee, the Negev, Jerusalem and other locations in central Israel suffer on a regular basis from noise that is caused by muezzin [prayer caller] calls in mosques," the bill states.
Around 20 per cent of Israel's population are Arabs, most of them Muslim, meaning the adhan is a familiar sound five times a day - including before dawn - despite the country's de facto status as a Jewish state.
Mr Ilatov suggested that freedom of religious worship was trumped by the right to peace and quiet.
"Freedom of religion and worship is a universal freedom to which everyone is entitled in every democratic state, and of course in Israel," he told Yedioth Ahronoth newspaper. "This does not mean that additional rights can be trampled, such as the right to conduct a normal daily routine that includes peaceful and uninterrupted sleep during the night."
The proposal comes against the backdrop of a clampdown by security forces in Arab neighbourhoods in East Jerusalem which have witnessed almost nightly scenes of unrest in recent months following the murder of a 16-year-old Palestinian by Jewish vigilantes seeking revenge for the killing of three Israelis in the West Bank.
The Israeli parliament voted overwhelmingly last week to suspend Haneen Zoabi, a legislator representing the state's large Palestinian minority, for six months as a campaign to silence political dissent intensified.
It is the longest suspension in the Knesset's history and the maximum punishment allowed under Israeli law.
At a press conference, Zoabi denounced her treatment as "political persecution."
"By distancing me from the Knesset, basically they're saying they don't want Arabs, and only want 'good Arabs.' We won't be 'good Arabs,'" she said.
The Knesset's confirmation of Zoabi's suspension comes as she faces a criminal trial for incitement in a separate case and as the Knesset considers stripping her of citizenship.
But Zoabi is not the only Palestinian representative in the firing line. Earlier this year the Knesset raised the threshold for election to the parliament, in what has been widely interpreted as an attempt to exclude all three small parties representing the Palestinian minority. One in five citizens of Israel belong to the minority.
In addition, it emerged last week that a bill is being prepared to outlaw the northern branch of the Islamic Movement, the only extra-parliamentary party widely supported by Palestinian citizens.
Along with Zoabi, the Islamic Movement's leader, Sheikh Raed Salah, has been among the most vocal critics of Israeli policies, especially over the al-Aqsa mosque compound in occupied Jerusalem.
After Israel barred the Palestinian Authority from having any presence in Jerusalem more than a decade ago and expelled Hamas legislators from the city, Salah has become the face of Palestinian political activism in Jerusalem.
Zoabi was originally suspended after legislators from all the main parties expressed outrage at a series of comments from her criticizing both the build-up to Israel's summer assault on Gaza, dubbed "Operation Protective Edge," and the 51-day attack itself, which left more than 2,100 Palestinians dead, most of them civilians.
In particular, fellow members of Knesset were incensed by a radio interview in which she expressed her disapproval of the kidnapping of three Israeli youths in the occupied West Bank, but refused to denounce those behind it as "terrorists." The youths were later found murdered.
Zoabi faced a wave of death threats and needed to be assigned a bodyguard for public appearances.
During the Knesset debate on her appeal against the suspension, Zoabi said: "Yes, I crossed the lines of consensus — a warlike, aggressive, racist, populist, chauvinist, arrogant consensus. I must cross those lines. I am no Zionist, and that is within my legal right."
In an apparently intentional subversion of Netanyahu's recent comparison of the Islamic State and Hamas, the Palestinian resistance movement, Zoabi described an Israeli Air Force pilot as "no less a terrorist than a person who takes a knife and commits a beheading." She added that "both are armies of murderers, they have no boundaries and no red lines."
Avigdor Lieberman, the foreign minister, was among those who responded by calling Zoabi a "terrorist."
"The law must be used to put the terrorist — there is no other word for it — the terrorist Haneen Zoabi in jail for many years," he told Israel Radio.
Ayelet Shaked, of the settler Jewish Home party, which is in the government coalition, has introduced a bill that would allow a simple majority of the Knesset to vote to override Supreme Court rulings.
Human rights lawyers warned that the bill would further erode already limited protections for minority rights.
Debbie Gild-Hayo, a lawyer with the Association for Civil Rights in Israel, warned that protections for minorities from the tyranny of the majority would be in severe jeopardy as a result. "These proposals wish to break down the checks and balances that are fundamental to democracy," she said.
Zoabi remained defiant. She noted that, while she was being hounded, the legal authorities had ignored genocidal remarks made by Jewish politicians against Palestinians during the summer attack on Gaza.
"They're putting me on trial over a trivial, meaningless matter, while ministers and MKs who incited to racism and incited to violence and even to murder aren't being investigated, even after complaints were filed against them."
She added: "If I am indicted, I'll turn the hearings into the most political trial in Israel's history."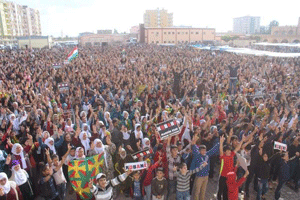 Kurds as far as the eye can see demonstrating solidarity
with the people of Kobane in Kiziltepe, Turkey near the Syrian border.
International Call Leads to Global Day of Action
For Kobane And For Humanity
(peaceinkurdistan.com, 10/28/14)
press statement excerpt:
Nov 1 is an urgent call for action appealing to people all over the world to show solidarity with Kobane, which is still under siege by the Islamic State (IS) and facing the possibility of a genocide.
Prominent signatories include Professor Noam Chomsky and Archbishop Desmond Tutu, who have both been long-time supporters of the Kurdish struggle for self-determination, as well as Nobel Peace Prize Laureates like Adolfo Erez Esquivel, and Jose Ramos-Horta, former President of East Timor and Nora Cortinas, cofounder of the Mothers of Plaza de Mayo in Argentina and Palestinian singer Reem Kelani.
For nearly two months, the city of Kobane has been facing an onslaught from IS. The call for action states that the US-led coalition "has not fulfilled their real international legal obligations. Some of the countries in the coalition, especially Turkey, are among financial and military supporters of IS in Iraq and Syria."
Dore note:
In response to the call to action there were rallies in some 30 countries spanning 5 continents.
Watch
Reem Kelani's video message
of solidarity with Kobane posted 10/20/14..
Latest info via Twitter:
#GlobalDay4Kobane
and
#Kobane
Related articles:
First Kurdish reinforcements
cross Turkish border to Kobane
Peshmerga enters Kobane in powerful symbol
for long-oppressed stateless Kurds
(Richard Spencer and Magdy Samaan, Telegraph UK, 10/30/14)
Reinforcements Enter Besieged Town via Turkey, Raising Hopes
(Anne Barnardoct, NYT, 10/29/14)
IS controls half of Kobane, says FSA rebel leader
(Richard Spencer, Telegraph UK, 10/29/14)
combined excerpt:
The reinforcements (including desperately needed anti-tank missiles and artillery) were the first Turkey had allowed to cross through into Syria after weeks of tense diplomacy.

Turkey has strong reservations about helping Kurdish communities in Syria and Iraq that are aligned with its own restive Kurdish population.

For many ordinary Kurds, the Peshmerga's arrival was a symbol of a long-sought united front to save Kobane, which has become a symbol of their resistance not only to the Islamic State of Iraq and the Levant but all the many enemies against which they have fought over the years in all three countries.

Soner Cagaptay, a Turkish political analyst at the Washington Institute for Near East Policy said the range of forces now in Kobane was striking. It incorporates Syrian Arab rebels, the Iraqi Kurds, and local Kurdish fighters from the Y.P.G., a militia affiliated with Turkey's outlawed Kurdistan Workers' Party, or P.K.K., movement.

"That's huge, the first time this has happened," he said. "This builds up a working relationship between these three groups, so if the goal is to build a native, indigenous boots-on-the-ground strategy, this could be the beginning."

A Town Shouldn't Fight the Islamic State Alone;
Turkey's Obstruction of Kobane's Battle Against IS
(Meysa Abido, NYT Op-Ed, 10/28/14)
Meysa Abdo, who is also known by the nom de guerre Narin Afrin, is a commander of the resistance in Kobani.
Since Sept. 15, we, the people of the Syrian town of Kobani, have been fighting, outnumbered and outgunned, against an all-out assault by the army of the Islamic State, also known as IS.
Yet despite a campaign that has intensified in the past month, including the deployment of United States (captured) tanks and armored vehicles, the Islamic State has not been able to break the resistance of Kobani's fighters.
We are defending a democratic, secular society of Kurds, Arabs, Muslims and Christians who all face an imminent massacre.
Kobani's resistance has mobilized our entire society, and many of its leaders, including myself, are women.
We had been fighting without any logistical assistance from the outside world until the limited coalition airdrops of weapons and supplies on Oct. 20. Airdrops of supplies should continue, so that we do not run out of ammunition.
None of that changes the reality that our weapons still cannot match those of the Islamic State.
Turkey, a NATO member, should have been an ally in this conflict. It could easily have helped us by allowing access between different Syrian Kurdish areas, so as to let fighters and supplies move back and forth through Turkish territory.
Instead, the Turkish president, Recep Tayyip Erdogan, has several times publicly equated our fighters, who are defending a diverse and democratic society, with the murderous Islamic State, evidently because of the controversy surrounding Turkey's Kurdish minority.
Last week, following domestic and international criticism, Turkish leaders at last said they would open a corridor for a small group of Iraqi pesh merga fighters, and some Free Syrian Army brigades, to cross into Kobani. But they still will not allow other Syrian Kurds to cross Turkish territory to reach us. This has been decided without consulting us.
As a result, the Islamic State can bring in endless amounts of new supplies and ammunition, but we are still effectively blockaded on all sides.
We believe that it is in the Turkish government's interest to have a border with the democratic administration of a western Kurdistan rather than one with the Islamic State.
Western governments should increase their pressure on Turkey to open a corridor for Syrian Kurdish forces and their heavy weapons to reach the defenders of Kobani through the border.
We have proved ourselves to be one of the only effective forces battling the Islamic State in Syria. Whenever we meet them on equal terms, they are defeated.
.
The people of Kobani need the attention and help of the world.
This article was translated from the Kurdish for the New York Times by Güney Yildiz.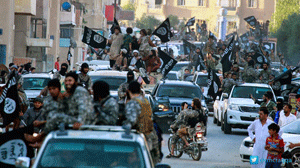 Islamic State (IS) in Raqqa, Syria
Image by AP/Raqqa Media Center
Raqqa is Being Slaughtered Silently, And These Guys Are Risking Their Lives To Document It
(Alice Speri, news .vice.com, 9/25/14)
excerpt:
Raqqa is a city where life under the Islamic State is as inscrutable to outsiders as it is terrifying — a reminder of the caliphate's brutality as much as of its bureaucratic efficiency.

With open dissent all but stifled in the city — and punished with death, when it still happens — a group of young residents has taken the huge personal risk of documenting life under the Islamist fighters' rule — sharing photos, videos, and stories from the city on the web. Even after one of them was caught and executed, the group carried on, speaking with journalists and sharing images from the city.

VICE News caught up with 22-year-old Abu Ibrahim Raqqawi, a member of the group who in the last four years went from medical student, to activist against the regime of Bashar al-Assad, to a chronicler of the fate of his city under the Islamic State, which he documented one crucifixion at the time until he was forced to flee just two weeks ago.

VICE NEWS:
How do you guys operate?
Abu Ibrahim Raqqawi: Our campaign is called "
Raqqa is being slaughtered silently
,
" and it was launched in April, 2014. We wanted this campaign because ISIS commits a lot of crimes in the city, without anyone in the world knowing about it. We are 12 inside the city and four outside.
So those of you that are out of Raqqa, where are you?
There are three in Turkey, and I got out of Raqqa about two weeks ago, but I'm not in Turkey and not in Syria. I got out because they want to execute me but my family is still in Raqqa.
Were you guys fighting the regime of Bashar al-Assad before ISIS came in?
We were activists against the Assad regime when we started, but after our city was freed, and ISIS took over our freedom, we just decided to launch this campaign to expose all the crimes that ISIS do, and not just ISIS but all the extremist groups in the city.
Who is in charge? Mostly foreigners? Or mostly Iraqis or Syrians?
Most of them are Iraqis and Tunisians. But mostly Iraqis.
How was Raqqa before ISIS, and before the war, especially for women? Were they able to work?
It was a normal city like any other city in the world. There were female doctors, lawyers, teachers. There were a lot of women who weren't even wearing hijabs. It was a mixed city, there were mixed marriages, mixed cafes, mixed restaurants. It was a normal city like any city in the world.
Are women allowed to work at all now?
No, just the teachers, and they are not allowed to teach boys over 6 years.
Are any girls still going to school?
There has been no school or education since ISIS has taken the city. No universities, no school, no nothing at all. They said they want to make new, special books, and special schools, but until now there is nothing at all, and they say that teachers must take special lessons from ISIS to be allowed to teach and those who don't won't be allowed.
Are there any underground organizations, or groups like yours?
There are almost no activists.
Are you afraid for your family in Raqqa, because of the work you do?
Sure. A week ago, they went to the home of one member of our group who's in Turkey, searching for him, and they said to his father, "If your boy does not stop talking about us, that will be a big problem for you."
How are you protecting your family, are you trying to get them out?
It's a very bad situation for us, we cannot take them out of the city.
How do people in Raqqa feel about the US air strikes?
I would say the people of Raqqa just split into two parts. The first part say, "I will deal with the devil just to take ISIS out of the city, because we are tired of ISIS. Enough of this, we want you to take them out of the city, we want our freedom, we want our lives back, and our sons back from prison, because there are more than 1,200 people from Raqqa in ISIS prisons."
They just want these air strikes to kick ISIS out of the city but they fear these air strikes, because they don't want any of the civilians or the innocent prisoners, and innocent families to die.
The second part, including me, are against these strikes, because if the West wanted our freedom, why didn't they bomb the Assad regime after he used chemical weapons, and why didn't they bomb the Assad regime when we have been begging for their help for four years now, and they didn't do anything? They are just now doing this because of ISIS, not for us. So they are against these airstrikes. People just split into two parts, but both parts are fearing that air strikes will kill innocent people.
Gaza Corner Audio Broadcast Dore Stein 9/20/14
(click for broadcast)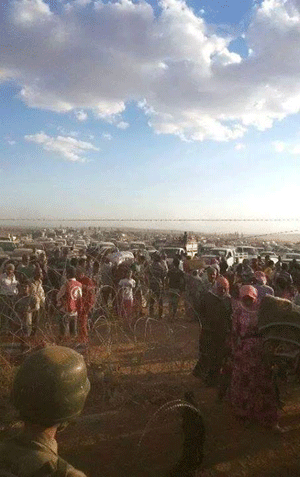 Turkey closed the border crossing w/ Kobane again as thousands of Kurds flee IS encirclement of city. Obama remains silent and does nothing to prevent possible mass slaughter;
photo credit unknown - taken 9/20/14
Letter to President Barack Obama - Provide Syrian Kurds with humanitarian and military support
(Dr. Amir Sharifi - Ekurd.net, 9/20/14)
related stories:
Obama abandons Syrian Kurds to slaughter
(Opinion, Michael Rubin, AEIdeas.org, 9/19/14)
AEIdeas is a blog from the American Enterprise Institute
'
The world cares nothing'
Syrian city under IS siege
(Opinion, Patrick Cockburn, The Independent UK, 9/18/14)
IS seizes 21 Kurdish villages in northern Syria,
close in on Kobane
(Agence France-Presses/Reuters, 9/18/14)
Massacre warnings
signal
now is the time to attack ISIL
(Opinion, David Phillips, CNBC.com, 9/18/14)
On Kurds and terror lists
(Opinion, Michael Rubin, AEIdeas.org, 9/19/14)
President Obama transcript of address to the nation concerining the Islamic State (IS)
(9/10/14)
Israel jailed influential Palestinian writer
"to remove him from society"
(Patrick O. Strickland, The Electronic Intifada/al Bireh 9/12/14)
related article:
Number of Palestinians held in
administrative detention doubles
(Maannews.net, 8/13/14)
Gaza Corner Audio Broadcast
Dore Stein 8/31/14
(click for audio)
Turkish Kurds help their Iraqi brothers
to resist Islamic State (IS) advance
Female Guerillas are leading the PKK's fight against IS
in a rare display of unity with Peshmerga
(Hermione Gee, Independetn UK, 9/7/14)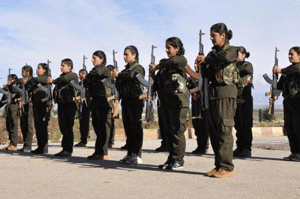 Kurdish female fighters of the Kurdish People's Protection Units (YPJ) at a military training camp. [Reuters]
After the northern Iraqi town of Makhmour fell to Islamic State militants last month, Kurdish forces were gathered in the nearby village of Bazarga. Perched on the hillside overlooking the city, it gave the Kurds a safe vantage point from which to observe their enemy.

Volunteers had also converged on the area, offering their help to the Kurdish army, or Peshmerga. Hundreds of parked cars lined the side of the main road from the regional capital, Erbil, with young men leaning against their doors. Like the security forces stationed at a camp hidden from the road, they were waiting for an opportunity to take on the militants.


"We come here because we want to fight terrorists. We have guns in the car; we will fight these people until we die," explained Moukadam Aziz, who returned to Kurdistan from Norway, where he lives, to defend his homeland from Islamic State (formerly known as Isis).

Like Aziz, many volunteers standing around in the late afternoon heat had returned from abroad after Islamic State took Mosul in June. Others came to Bazarga from across Kurdistan, determined to resist the militants.

The assortment of armed forces gathered in the area told a similar story, with Kurdish government troops fighting alongside guerrillas from the Kurdistan Workers Party, or PKK. Within the official forces, the battle for Makhmour saw a rare display of unity between battalions whose loyalties are divided across Kurdistan's different political parties and provinces.

At a military base nearby, men were milling around a central courtyard, some in uniform, some in traditional Kurdish dress, but all sharing the mood of restless anticipation, filling the time talking and smoking, apparently oblivious to the intermittent artillery fire around them.
Brigadier Colonel Hejar, of the Kurdish security services, in charge of the base, said they clashed with Islamic State the day before, killing dozens of militants. "We brought two bodies back to the camp and buried them this morning," he said.
The troops were defending a UN-run refugee camp in Makhmour, which has been home to more than 12,000 Turkish Kurds for the last 15 years. The refugees had to flee their own country because of their allegiance to the PKK, which Turkey – like the US, EU and Nato –considers a terrorist organisation.
Founded by Abdullah Ocalan in the 1970s to fight for Kurdish cultural and political rights, the PKK has been engaged in an intermittent struggle against the Turkish government ever since. Ocalan is now serving a life sentence for treason in Turkey.
The upside to the current crisis, says a 28-year-old PKK guerilla called Slaw, is that the Kurds are finally working together. One of the PKK's many female fighters, Slaw lives in the Makhmour camp. The battle for Makhmour was her first experience of armed combat and the first time she had seen Kurds united.
"Now there are no borders between the different parts of Kurdistan. Kurds from Iran, Syria, Turkey, and Iraq are here. We've all crossed the borders to fight the Isis. The Kurds are united to bring our land back under our control."
Kurdish forces successfully retook Makhmour a few days later and the PKK have now deployed to Sinjar and Jalawla, Kurdish areas in the west and east of the country where extensive fighting continues. But divisions between the different factions are starting to re-emerge, with the Kurdish authorities apparently distancing themselves from the PKK.
The local media close to the government
has played down the role of the PKK in providing aid to the tens of thousands of Yazidi stranded on a mountain
after Islamic State militants overran the western district of Sinjar, and then in
creating a safe corridor that allowed them to escape.
Unlike the recent refugee camps scattered across the Kurdistan region, Makhmour's residents live in houses, some built out of local stone, others out of grey cement blocks. Trees, gardens, and winding streets give the camp a village-like feel, while pictures of Ocalan and pro-PKK graffiti leave no doubt about where the residents' allegiances lie.
When Islamic State entered Makhmour the battle-hardened PKK fighters are said to have volunteered to take the front line, ahead of the Peshmerga, who had not been engaged in active combat for years.
"We thought it would raise their morale to have us in front of them," said Massoum, one of three PKK commanders who run the camp.
Massoum says the international community is reluctant to give the PKK the credit they are due or the military support they could use to help to keep Islamic State at bay. "People are blind, deaf and dumb and don't want to strengthen the PKK. They call Isis 'jihadists' and call us 'terrorists'. They see us as a threat when they should understand that none of us can stand alone against Isis."
War on Gaza:
Looking Back and Forward
(editorial by Dore Stein, updated 8/31/14)
I finished writing this editorial and was about to post it when news broke this morning of yet another Israeli war crime, one that will not likely be reported as such in the American mainstream press.
The pace of Israel's illegal settlement expansion has accelerated in recent years. Israel stepped on the accelerator yet again with what
Peace Now
calls "the largest Israeli appropriation of West Bank land in 30 years." Israel's Civil Administration in the West Bank announced the takeover of almost 1000 acres belonging to five Palestinian villages between the Etzion settlement bloc and Jerusalem.
You can read the story in
Al Jazeera
,
Guardian UK
and
Haaretz
(Haaretz requires registration.)
According to The International Criminal Court's founding charter, the
1998 Rome statute
(pdf - under War Crimes 2b (viii), describes as a war crime "the transfer, directly or indirectly, by the occupying power of parts of its own civilian population into the territory it occupies."
If anyone requires more proof that Israel is not interested in seriously moving forward with a peace process, this is it. Fresh off its latest war on Gaza that resulted
international condemnation
from EU leaders to even President Obama for Israel's wanton slaughter of Gazan civilians and deliberate destruction of Gaza's civilian infrastructure, Israel responds with its biggest illegal land grab in three decades.
All American administrations are on record as being opposed to Israeli settlement building but words amount to empty rhetoric as the U.S. refuses to leverage its annual 3 billion dollars of economic and military aid to pressure Israel. It's a joke for the U.S. to discuss a two state solution when the West Bank and East Jerusalem continue to be swallowed by Israel on a daily basis.
After 51 days of human carnage in Gaza an open ended cease-fire was reached August 26 to apparently end Israel's third war on Gaza in the past six years.
As always the biggest losers are civilians especially children.
In Gaza approximately 2150 people were killed, most of them civilians, including more than 500 children which would equate to 88,000 American children in the name of self-defense. At least 11,000 people were injured including 3000 children of whom 1000 have injuries that have paralyzed them. 1800 children are orphaned. and more than 17,000 homes were destroyed or badly damaged. Around a third of Gaza's 1.8 million people have been displaced. Gaza's civilian infrastructure has been destroyed. Reconstruction could take up to 10 years, say analysts.